A.Odontuya: We need to teach environmental education at an early age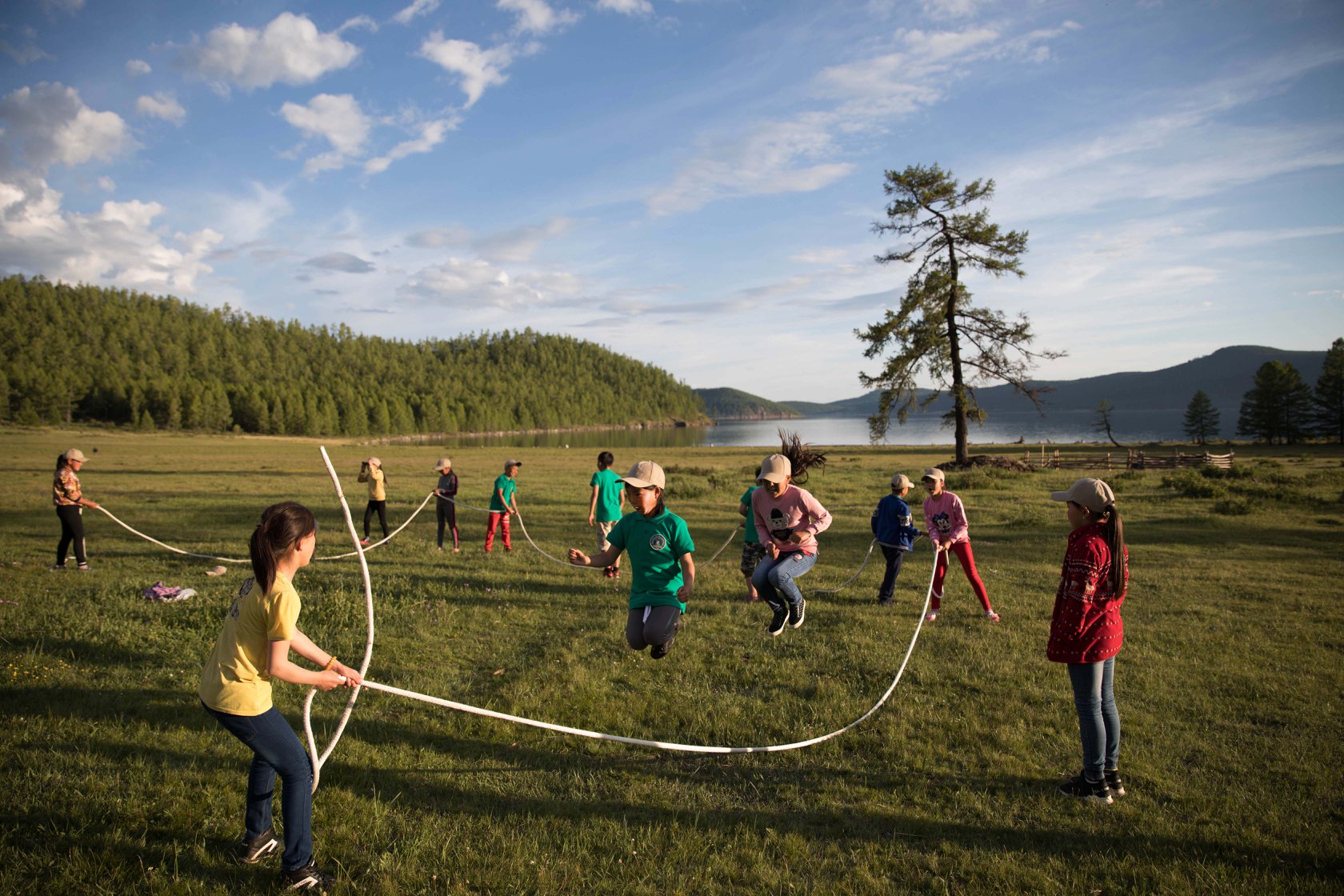 Mongolian Economy magazine spoke with A.Odontuya, project coordinator at Mongol Ecology Center, about environmental education, the Youth Sustainability Corps and other programs offered by Mongol Ecology Center. 
-Could you briefly introduce yourself to our readers? 
-I'm Odontuya and I work as a project coordinator at Mongol Ecology Center. I studied for a master's degree in Tourism Management in Budapest and I graduated last year. After arriving in Mongolia, I was looking for a volunteering opportunity and I found Mongol Ecology Center. Luckily, at that time, MEC was seeking a project coordinator and I qualified for that position. 
In the past, I used to work for various organizations. I was working as a journalist at GoGo news agency, PR & Communications Associate for German-Mongolian Institute of Resource and Technology and a Translator for Redpath LLC at Oyu Tolgoi mine. 
 -How was Mongol Ecology Center founded?
-The Mongol Ecology Center was founded in 2009 to ensure a thriving future for Mongolia by transferring best practices to preserve Mongolia's environment, natural resources and cultural heritage. 
Our founder Ono Batkhuu who now works as a Head of MEC's BOARD was committed to taking action after witnessing the impacts of climate change and irresponsible decision-making in our country's environmental sector. Economic development is crucial but growth can be balanced with preserving our most valued natural and cultural heritage. One way is to enhance the management of our national system of parks and protected areas. 
-Various non-governmental organizations are focused on nature and animal preservation, the environment and climate change in Mongolia. What is distinct about the Mongol Ecology Center?
-We at MEC like to explore diverse international best practices in preservation. We design our projects to reflect our findings, experience and needs of local communities. 
As stated in our mission statement, we work to ensure a thriving future for Mongolia by empowering youth and promoting environmental leadership.
Therefore, we initiated the Junior Ranger program in 2013 and Youth Sustainability Corps in 2019 with support from the European Union.
-What are some examples of collective actions done by your organization to preserve the environment?  
-Over the years, the MEC strived to strengthen the management of the protected areas, initiated various projects to advance skills of the park staff, promote environmental leadership among youth, rehabilitate and expand park facilities, provide equipment and motorcycles to the rangers, support tourism-related workforce development for local community members and build collaborative bridges between Mongolia, Europe, and America. 
-Your organization has been running the Youth Sustainability Corps program since 2019. Could you briefly describe the program? 
-The Youth Sustainability Corps' primary objective is to empower young people by educating them about their civil rights and developing their skills to monitor, collaborate, and advocate for the use of best practices in effectively managing and utilizing Mongolia's natural and cultural resources. 
The program works with 9-12 grade students of 8 target schools. Our target schools are
A school of Khatgal village, Hovsgol province

A school of Khankh soum, Hovsgol province

A school of Manhan soum, Khovd province

A school of Munkkhairkhan soum, Khovd province 

A school of Dalanzadgad soum, Omnogobi province 

A school of Gurvantes soum, Omnogobi province

119th school of Nalaikh district, Ulanbaatar city

12th school of Ulanbaatar city.
Due to the COVID-19 pandemic, most of our programs are now being offered online. The advantage of online learning includes we can reach more students than our target students. On the other hand, the disadvantage is most students living in rural areas find it hard to access the internet.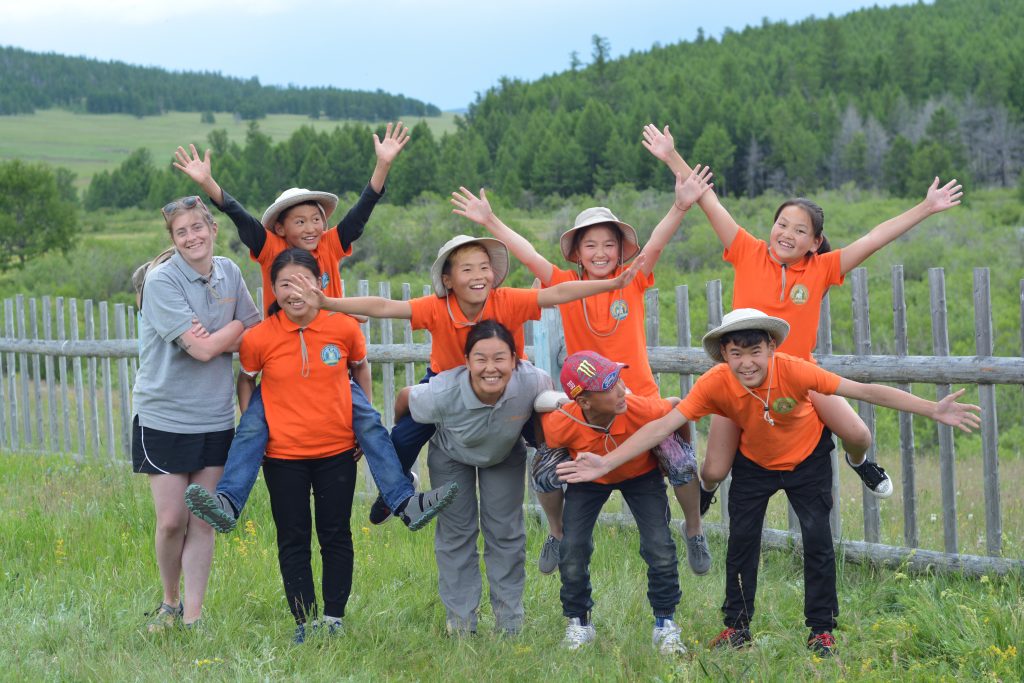 -What are the main activities and benefits of the program?
-The YSC program has six components: 
Common Space Training Classroom – The Youth Sustainability Corps renovate and equip existing classrooms or common areas with the latest technology and children-friendly tools at local schools for long-term use as training centers. So far, we have revamped four classrooms and planning to renovate two classrooms in Hovd province in the next couple of months.

"Leadership" Summer Training Camp is a week-long advanced training summer camp where 9-12th graders from remote and urban areas can meet each other to exchange experiences, learn from each other and form friendships. Students learn about the environment and sustainable development practices in the areas where they live by learning how to identify problems in the local and school environment and find solutions innovatively. Again, due to the Covid 19, we have postponed our summer camps activities. Meanwhile, we are working on different delivery methods to share the camp activities' content with our students.

YSC Academy – The primary purpose is to provide students with non-traditional knowledge and skills not covered in the school curricula. In the scope of this, we create video content and podcasts under the main five topics, including (i) environment and sustainable development, (ii) leadership, (iii) physical and mental health, (iv) business and finance, and (v) technology and innovation. We collaborate with 

www.yolo.mn

for the project outreach.

Community Projects – Our YSC students will work together to initiate and implement community projects in innovative ways to identify and contribute to the school and the local community's ecological, economic, and social issues. We believe it is possible to reach Mongolia's sustainability goals through the increased participation of young people.

Practical experience in the field – By doing short-term internships in workplaces related to the protected area and tourism, students will be able to make an informed decision by understanding the specifics of different professions related to sustainability and the environment.

International Exchange – This component of our project is designed for our hands-on and committed students. The participants will travel to Europe to learn and share experiences with the European counterparts. 
-Do other organizations offer similar programs as Youth Sustainability Corps?
-Many Youth programs are being implemented in Mongolia and we are all doing our part to make a difference.  
-Could you tell us about how European Union decided to finance the Youth Sustainability Corps program?
-We are very grateful to be supported by the European Union. The European Union announces a call for proposals to support civil society organizations and we are one of the fortunate organizations to be selected. 
-So far, how many students participated in the program? 
-Of course, we would like to involve as many students as we can. Currently, we are planning to reach one thousand five hundred students in our target areas. 
-When can students apply to the next program?
-I want to encourage students to check out our website and follow us on social media to get more information on how to get involved. 
-At the moment, Mongol Ecology Center provides education on nature preservation only to students (15-22 years olds)? Do you plan to expand your programs to adults, especially to parents? 
-Currently, our program works with the teachers of our target schools. In a partnership with the Mongolian Educational Alliance, we virtually organized an in-service training for 90 teachers in March. Currently, MEA and MEC are planning the second virtual training for the teachers. 
-Could you tell us more about the Rally for Rangers program? 
-Our Rally for Rangers project was initiated to protect the world's special places by empowering rangers around the world with new motorcycles and equipment. At the end of 2020, Rally for Rangers has delivered 120 new motorcycles to nine parks in three countries – Mongolia, Argentina, and Nepal. Adventurous philanthropists worldwide continue to flock our movement – Mongolia, Russia, Japan, Australia, New Zealand, U.S.A., Canada, Singapore, Germany, Denmark, Lebanon, and more have represented their cultures in this effort. Thanks to our riders who raised the money for the motorcycle and drove it across the country, and personally delivered it to the rangers. 
We hope to resume the Rally for Rangers in September to support the park rangers of Eastern Mongolia.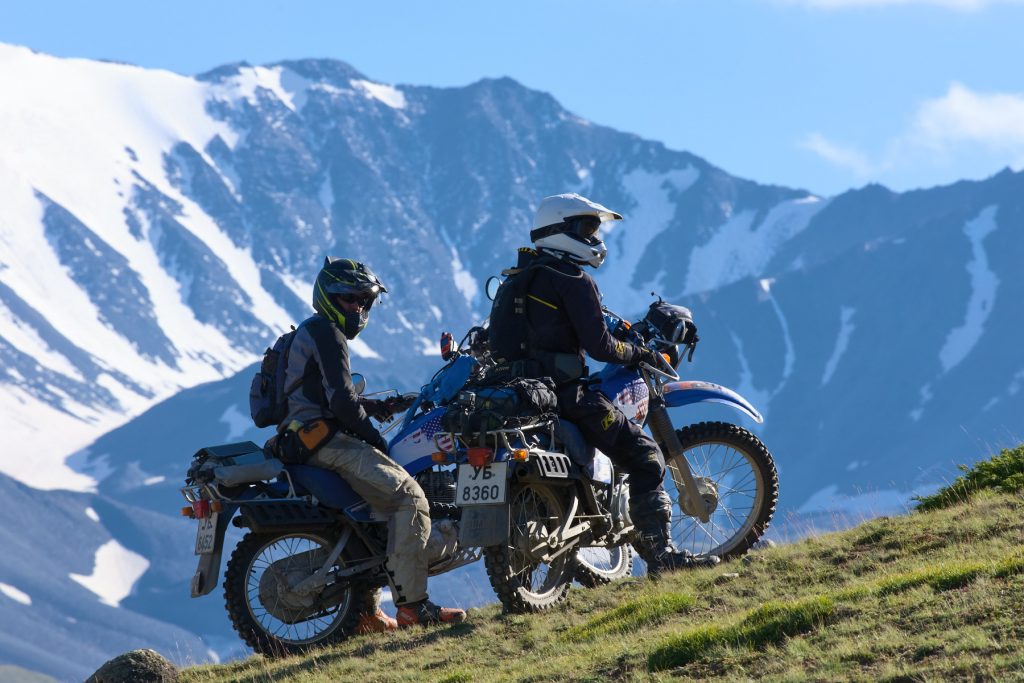 -What can participants learn from the program? 
-Our riders say that the only thing more rewarding and exhilarating than riding over 1,500 kilometers of dirt, mud, and river bottom is handing over the keys to a motorcycle, so these rangers can better protect the incredible natural and cultural resources.
-How many protected areas are there in Mongolia?
-According to the Ministry of Environment and Tourism, Mongolia has 107 protected areas which account for 19.8% of the territory.    
-Mongol Ecology Center aims to inspire Mongolian youth to love and protect nature. How do you inspire the youth? What are the most effective ways to do so? 
-Our Junior Ranger program activities are for 4-8 grade students. The project activities are designed for students to study the natural, historical, and cultural heritage of the area, recognize its value and importance and learn conservation techniques to mature into future leaders. For example, we invite rangers to our camp and share their conservation techniques and methods with children. 
-The Junior Ranger Program held among students of the Secondary school of Hatgal village and Hankh soum. Will the Junior Ranger Program become available in Ulaanbaatar? 
-We would love to expand our Junior Ranger program nationwide; however, the pandemic has affected our fundraising efforts. 
 -Your organization introduces international best practices in protected area management. Which countries have the best practices in protected area management? 
-Each country has its own unique and best practices in conservation. We try to learn from our park colleagues around the world, so it's difficult for me to point to one specific country. We have worked with the protected areas in the US, Germany, Argentina, and Nepal through our various programs. We hope that we would be able to support the protected areas in Bhutan and Peru next year. The MEC has also played a vital role in facilitating the relationships between the US National Parks and Mongolian Protected Areas. 
 -On the 28th of March, Mongol Ecology Center organized the "Youth Involvement in Climate Change" webinar with Earth Hour Mongolia. What are the three most important lessons you've learned from the webinar? 
-First, we need to raise public awareness of climate change. In that case, the media should join the forces and spread the news. Personally, people who are aware of climate change should share the story with every person they meet.
Second, we should combine our forces in solving the issue by sharing eco-friendly habits adaptable to everyone.
For example, we need to call for people to drive less, buy less, reuse more, reduce more etc. Third, we need to be consistent. 
-How can we, as individuals, help to mitigate climate change? 
-We need to reduce our carbon footprints. We can slow climate change by walking or riding bikes, avoiding fast fashion, switching lights, recycling, planting trees and plants, etc.    
-How can we engage youth in combating climate change?
-We need to provide environmental education to everyone from early childhood. It will help children to explore environmental issues, engage in problem-solving, and take action to combat. Unfortunately, integrated environmental education is not included in the school's curriculum. 
-What is the day in the life of the Project Coordinator of the Mongol Ecology Center?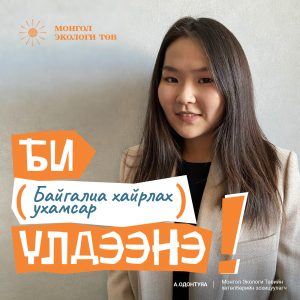 -I start my day by making coffee and have a quick brainstorm with my team. Then I check my emails. Every Monday, we update the weekly to-do list and I complete my task according to the list. 
-How would you describe your experience at Mongol Ecology Center in three words?
-So far, it's inspiring, challenging, and exciting. 
-What do you do to protect the environment or fight against climate change on a personal level? 
-I try to buy less. I like to think that If I don't possess that thing, that means I don't need that. Also, for me, the most significant contribution against climate change is working for the MEC.
-What makes you tick?
-For me, nature is the only thing that human beings must unite to love and protect, regardless of age, gender, ethnicity, nationality, or religion. I liked the Youth Sustainability Corps and Junior Ranger Program's goal, realizing that we need to nurture a sense of love and responsibility for nature from an early age. Also, Mongolia's state-protected areas are poorly managed. Noticing this, I felt thankful for MEC for bringing their expertise and knowledge by improving the management of the protected areas, implementing international best practices, conducting training, and research, raising funds, and implementing projects and programs. I hope that in the future, all the work done by MEC will expand globally and bring together more international sponsors and volunteers. I want to protect all living things and all resources existing today in the world, making it better if possible.