Annaka Peterson: $1million investment in green energy generates 3 times the jobs as the same investment in brown energy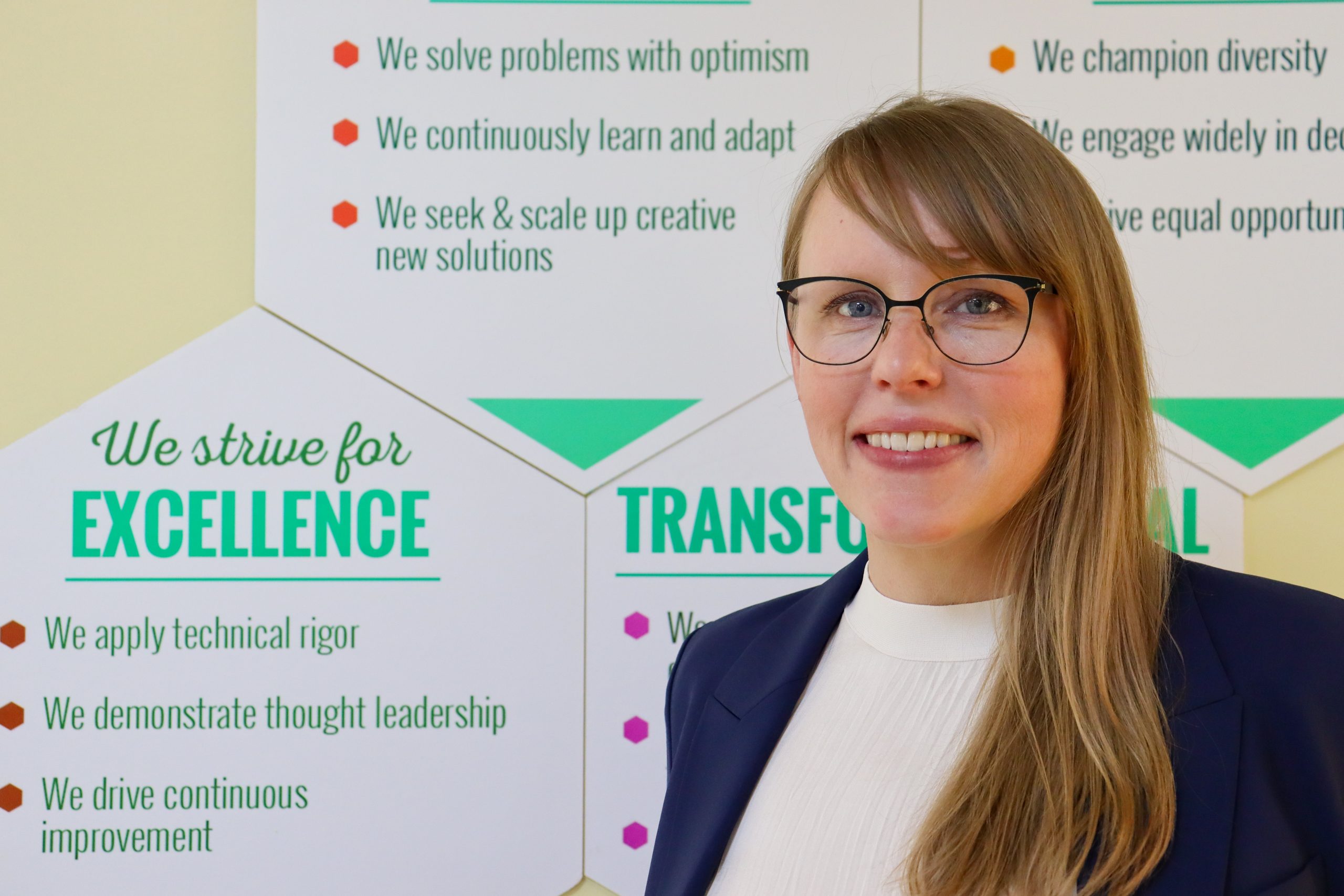 Mongolian Economy magazine spoke with Annaka Peterson, Country Representative at the Global Green Growth Institute. We spoke about their projects on updating Mongolia's NDC, energy efficiency, and green economy. 
-Could you briefly introduce yourself to our readers? How long have you been working as a Country Representative at GGGI Mongolia?
-I am Annaka Peterson. I started working as a Country Representative for the Global Green Growth Institute (Hereafter GGGI) in Mongolia in June 2020. Previously, I worked as a Deputy Country Representative at GGGI in Laos for three years. Before working at GGGI, I used to work for Oxfam International on climate change issues for quite a long time. 
My background is policy studies and my career has been focused on the intersection of environment, economy, poverty reduction and social inclusion. 
-Compared to working in Laos, how different it is to work in Mongolia?
-I would say that the two countries are different on the surface level. For example, in terms of weather and lifestyle, Mongolia is completely different from Laos. 
On the other hand, both countries are facing similar challenges and opportunities in building a greener economy. Laos heavily relies on hydropower for electricity and has a goal of exporting hydroelectricity to its neighboring countries. In the same vein, Mongolia largely depends on coal and has an aspiration to expand its electricity generation and export electricity to neighboring countries.
On top of that, both countries have opportunities to diversify their electricity generation by incorporating renewables sources such as wind and solar energies. Furthermore, in Mongolia and Laos, a lot of people's livelihoods depend on agriculture and natural resources. However, due to a changing environment, it is becoming problematic to make a living out of natural resources. Therefore, both countries are facing the need to adapt to the changing environment and take advantage of new opportunities. For instance, adding value to agricultural products and using technology to make more direct connections to the market.
-How many staff members do you have in Mongolia?
-At the moment, we have seven members and I am the only foreigner. Let me briefly introduce my teammates. N.Tsolmon is the Energy Program Officer who oversees the sustainable energy program. D.Munkhbat is the Green Cities Officer and working on green city projects. B.Batzaya who is our Green Investment Officer develops projects and works extensively with the private sector. E.Bayarmaa is in charge of administration, human resources and finances. E.Tumurbaatar is our Project Assistant and helps to devise building insulation projects. O.Shurentsetseg who is our long-term intern assists in communication and provides support to a wide range of projects at GGGI Mongolia. 
-How many ongoing projects do you have in Mongolia? Could you give us information about ongoing projects and their progress?
-Our work in Mongolia has been focused on a couple of areas. The first one is climate change and green growth. In 2019, GGGI worked with other international organizations on updating Mongolia's NDC and providing technical support to the Ministry of Environment and Tourism. As a result, the mitigation target for 2030 was increased from 14 percent to 22.7 percent. Within the framework of this project, we are providing technical assistance on how to calculate greenhouse gas (Hereafter GHG) emissions and develop mitigation actions at a national level. Sources of GHG emissions and air pollutants are similar in Mongolia, thus this project is also considering alternatives to have the Climate Change and Air Pollution activities both reflected in national and local decisions.
We are also building the national dataset to further strengthen the current climate projections and scenarios for Mongolia.
The current NDC's time horizon is only to 2030 so we are trying to develop scenarios to 2050. One of the main objectives of the Paris Agreement is to limit global warming to 1.5 degrees Celsius by the end of this century. To achieve this goal, the countries need to reach net-zero emissions by 2050. We hope that the collected data and climate scenarios will contribute to developing a long-term target and incorporating zero-emission targets for 2050 in national policy documents.
In addition, we work on mobilizing investments for climate change-related projects. One such example is Mongolia Green Finance Corporation (Hereafter MGFC). Last year, the Green Climate Fund which was set up to address climate change in developing countries approved over 27 million USD for creating a financing facility worth 50 million USD. It will also be co-financed by the Government of Mongolia and other commercial banks. The MGFC will provide financing for green housing, energy efficiency, insulation and many other projects that could help to reduce the GHG emissions and negative effects on the environment. 
The second biggest area of our focus is energy efficiency. One of the projects on that is Energy Performance Contracting for Residential Retrofitting. What we do is design a fund to help to retrofit old apartment buildings with improved insulation in Ulaanbaatar. You may know that building heat loss is quite high in these old buildings resulting in high energy consumption. If you insulate the whole building you can save 56 percent of your energy. By insulating, you can not only reduce heat loss, energy consumption, GHG emissions but also increase the comfort of your home and extend the lifespan of the buildings. In Phase 1, from 2022 to 2026, we plan to retrofit 375 building blocks. There are a few innovations that are being introduced to help scale up investment in building energy efficiency. One innovation that is being introduced to the project is a performance-based contract for construction companies. That means a portion of the payment will depend on delivering a certain level of quality in terms of the building's energy savings. After the construction, the construction company will receive a performance payment based on the amount of energy saved each year. We hope that it will serve as an incentive for delivering high-quality insulation. Another innovation is the monetary value of energy savings will go back into the fund so it will become possible to finance more buildings. There is also an on-bill repayment mechanism where a household will contribute a portion of the cost over a long period of time through their heat bills. 
The third project that we are working on this year is an assessment of jobs in the energy sector and identifying the future human resource needs to support a transition in the energy sector in Mongolia. In light of the COVID-19 situation and economic downturns, every country to maximize employment opportunities. According to the study "Green versus brown: Comparing the employment impacts of energy efficiency, renewable energy, and fossil fuels using an input-output model" each ONE million USD shifted from brown to green energy creates a net increase of FIVE jobs (Heidi Garrett-Peltier, 2017). Hence, GGGI Mongolia is digging deeper into Mongolia's situation and identifying the most optimal ways to reduce unemployment while growing the economy on a sustainable path. 
We hope the study will help to determine the areas of priorities for economic growth and job creation for Mongolia. Moreover, we hope it will help to prepare necessary human resources to increase access to new job opportunities in the more diversified energy sector. The study is expected to be available at the end of November this year. 
GGGI has also been working on renewable energy and cleaner sources of heating. For example, we have done some pilot projects on heat pumps and electric heating. We are continuing our support for more investment in renewable energy and cleaner heating solutions. At the moment, GGGI does not have any projects on that but we will keep following these issues. 
One of the activities GGGI has been doing globally is Greenpreneurs, a free 12-week virtual incubator supporting young entrepreneurs to develop social enterprise solutions that address sustainability and climate change issues in their community.  Last year, a startup called Nomadic PowerBox won 5,000 USD from Greenpreneurs. We hope that more Mongolian entrepreneurs and businesses will see opportunities in the green economy – whether it's using resources in their existing business more efficiently or developing new products and services.
We are waiting for another project to start. It is more on awareness-raising and capacity building related to climate change. It includes quite a several issues including the impact of climate change on public health and adaptation. Due to the warmer temperature, you might come across a new type of disease, viruses and an increased number of incidences of natural disasters. The project aims to ensure that the public health system and its facilities are resilient to climate change. 
-For Mongolia, is it possible to achieve net-zero emissions by 2050?
-Mongolia has not set a long-term emissions reduction target yet. The current scenarios only extend to 2030. That is why we are currently collecting data to develop 2050 projections to help Mongolia to set a long-term target and contribute to policy dialogue around longer-term targets and alignment with Vision 2050.
Within the framework of the Paris Agreement, the countries set a target every five years. That means Mongolia reviews its target and submits an updated NDC every five years. Hence, our team at GGGI hopes that perhaps in 2025 Mongolia will incorporate a net-zero emissions target into its NDC. 
-Mongolia has raised its NDC from 14 percent to 22.7 percent by 2030. What has given the confidence to Mongolia to raise its NDC targets? 
-During the updating process, we worked to include more data and add more sectors compared to previous years. In the updated NDC, besides energy, there are more topics related to agriculture, waste management and future projects. 
-Mongolia receives various support on achieving NDC from international organizations. For example, Mongolia is part of the UN's NDC Support Programme. Do you collaborate with other international organizations? 
-UN, GGGI, and other international organizations in Mongolia are part of the NDC Partnership. Under the NDC Partnership, we all are working together to improve Mongolia's NDCs, the capacity to report and develop implementation plans. During the process of updating the NDC, in 2019, GIZ, UNDP, Asia Foundation and GGGI worked on different sectors to help update Mongolia's NDC. In addition to the work we are doing  GIZ, UNDP and Asia Foundation are providing support to develop implementation plans for the NDC. Other organizations are also providing support.
-Could you tell us how you collect data for updating and developing NDC targets?
-For GHG emissions, we look at types of economic activities and sources of energy including how far people travel, what sort of industrial processes are taking place or what are the main agricultural activities. In short, we look at economic activities and how it's projected to grow. 
For adaptation, it is more complicated than mitigation actions. You look at historical and future trends which could be quite uncertain. If you see the historical trends, the incidence of natural disasters doubled in Mongolia. This helps to project future trends and identify the necessary adaptation measures. As it is not precise science our team always tries to use different sources of information and people's traditional knowledge and experience. People who live close to nature have ways and methods for forecasting weather and climate and preparing for the seasons ahead. Sharing more scientific information in ways that people can understand it and make use of it whether they are a herder, a water engineer or a local government official is an important part of the work we do.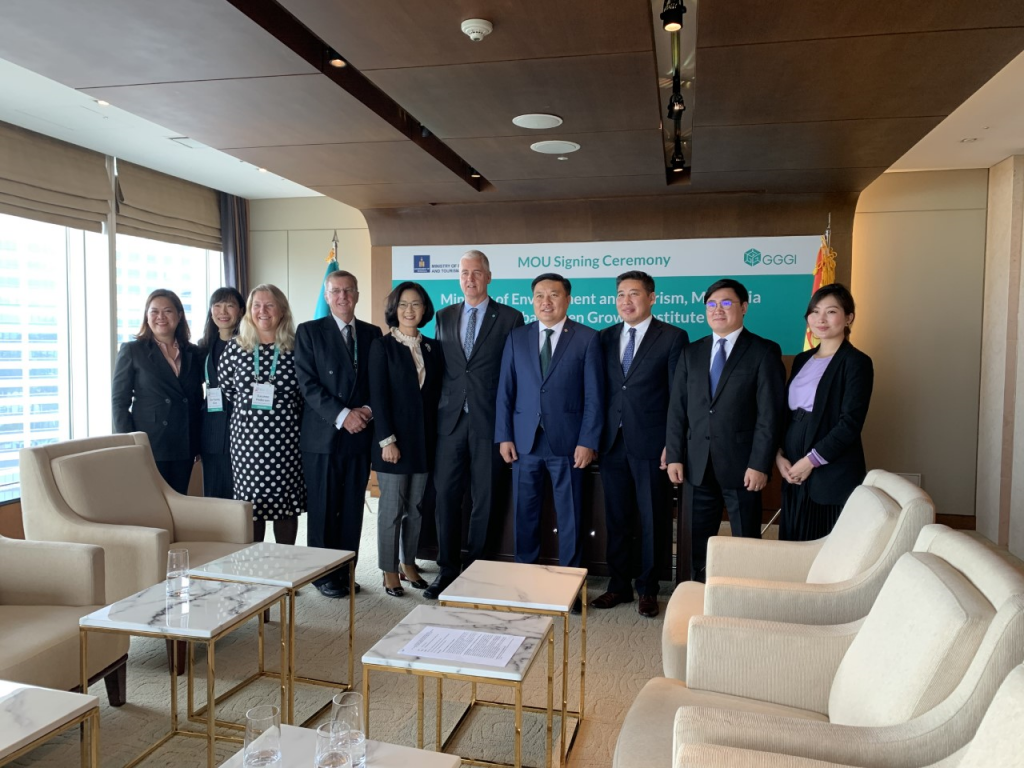 -What type of methodologies are used to measure GHG emissions?
-GGGI has been providing training on the LEAP (the Low Emissions Analysis Platform) which is developed by the Stockholm Environment Institute. LEAP is an integrated, scenario-based modeling tool that can be used to track energy consumption, production and resource extraction in all sectors of an economy. 
There is a standard emission factor for developing countries but GGGI tries to develop a country-specific factor when possible. For example, in Mongolia, 90 percent of electricity comes from coal which means the emission factor will be different than in Laos where 90% of electricity comes from hydropower. The volume of GHG coming from one unit of energy produced will vary depending on the energy sources. 
Also, UNFCCC offers data and guidelines on GHG emissions (GHG data from UNFCCC) that are available for countries and the general public. 
-How much GHG does Mongolia release? Where is Mongolia in terms of its GHG emissions compared to the rest of the world?
-According to Mongolia's NDC, 25.8 million tons of CO2 were released in 2010. And it is expected to increase to 74.2 million tons of CO2 by 2030 if no actions are taken to reduce emissions. In 2018, emissions were about 55 million tons of CO2 equivalent.
Mongolia accounts for a tenth of a percent of the total GHG emissions globally. Even so, Mongolia's per capita emissions are 2.7 times higher than the global average.
Indicating there are opportunities to reduce the emissions intensity of the economy.
-What are the main sources of GHG emissions in Mongolia?
-Currently, it is almost 50 to 50 between energy (electricity and heat) and agriculture. By 2030, the industry is likely to become one of the main sources of GHG emissions in Mongolia. 
-What are the key obstacles that seem to be hindering in-country operations the most? 
-The cost of financing is relatively high in Mongolia. When you have interest rates that are 18 percent or higher than that, it can be difficult to invest in new green innovations. New technologies are often viewed as higher risk, so access to capital for green technology might be limited. That is why GGGI Mongolia works on finding solutions to increase access to financing for green entrepreneurs and technologies. 
-What might be the main challenges in achieving NDC?
– Achieving the NDC is not without its challenges. The current global pandemic situation and economic downturn are putting a strain on every countries' efforts. More specifically, achieving the renewable energy target by 2030 is feasible but it might have become more challenging. A simple way to reduce the GHG in the agriculture sector is to reduce livestock animals but the volume of livestock has been increasing because of economic challenges. Herders would not want to reduce the volume of livestock because it might deprive them of earnings during the downturns. Thus, agricultural targets may be challenging to achieve. But challenges also bring opportunities and with an abundance of renewable energy and rich natural resources, there are opportunities to achieve even more than what was set out in the NDC.
On top of that NDC includes adaptation measures that are even more complicated and less clear. It can be difficult to raise funding for adaptation projects compared to mitigation. To illustrate, investors might be more interested and willing to invest in wind farms rather than training herders to adapt to climate change or developing early warning systems. Therefore, Mongolia might face challenges in developing clearer and stronger action plans to support adaptation to climate change.   
-What individuals can do to help the Government of Mongolia to achieve its NDC?
-There are many things that we could do to fight climate change in our daily lives. For example, we can be more conscious about our energy consumption. If you have a house, you could improve the insulation to reduce energy loss and consumption. We could buy electric vehicles instead of diesel ones, or take the bus instead of driving our own car.
-What do you do to raise public awareness in taking climate action?
-At the end of the year, we had an awareness-raising campaign on saving energy and being conscious about your energy consumption. We made various videos and animations and targeted a diverse range of audiences. 
We believe that changing people's awareness and behaviors are an important part of climate action as we need to involve everyone in fighting climate change. In the upcoming period, we will try to do more activities on raising awareness on climate change. 
-What actions do you take in terms of fighting climate change at GGGI Mongolia?  
-Every year, we track our emissions, do assessments of our GHG emissions and make an action plan for the upcoming year. This information is included in our annual report.  In fact, our office is located in the Energy Regulatory Commission's building that has a solar panel on the roof meaning we have a clean source of energy. We try to reduce waste and recycle or reuse our waste at our office. From time to time, our team at GGGI invests in projects that reduce GHG emissions to offset our footprint.   
-Do you have any upcoming events? Where can we find information on GGGI's events?
-We had training on the LEAP, a software tool, in March (160+ participants from 21 aimags, record for SEI history) and will have another training in late May. Moreover, we are talking about hosting a virtual event on climate change with the Mongolian Renewable Industries Association. GGGI has been co-organizing the National and International Renewable Energy Forums and Summits since 2015 – in partnership with the Mongolian Renewable Industries Association.  
You can find all information on upcoming events from the GGGI Facebook page (Link to page: GGGI Mongolia). 
-What do you want others to know about GGGI Mongolia?
-GGGI is an international organization that puts all its efforts into working together with all people in Mongolia towards building a green economy. Although there are many challenges, Mongolia has lots of opportunities to transition to a greener economy. I hope that our team, GGGI, will work closely with more people from the Government, private sectors and individuals to build a green economy for the future.