B.Enkhjargal: Educational inequality is the root cause of poverty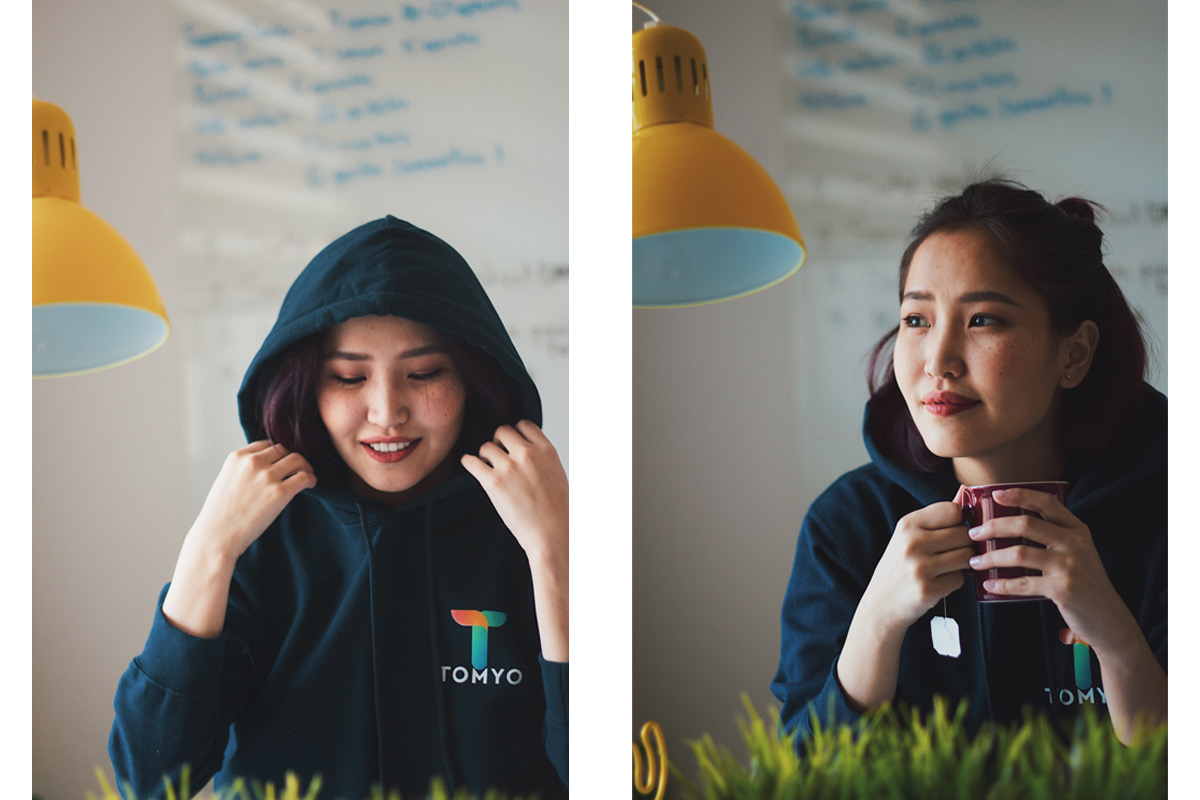 Mongolian Economy magazine spoke with B.Enkhjargal, COO and co-founder of TomYo, about startups, education and TomYo. 
-How would you evaluate startup funding opportunities in Mongolia on a scale of one to ten? How can we improve? 
-I would say six. Definitely, it is not as easy as Silicon Valley but if you have a great idea, it is possible to raise fundings for your startup in Mongolia. TomYo has been in business for around one year and two months. Over the course, we have raised fundings twice, one from an angel investor and seed investment from a local company. Even though the pool of investors is still relatively small, more and more individuals are looking for better-paying alternatives to bank savings and exploring start-up investment too. Therefore,  I expect to see more funding options this year.
In terms of improving the startup ecosystem, the Government could offer tax brackets for startups. This type of measure can incentivize people to take risks and start their own businesses. Secondly, we need more successful startups to look up to. At the moment, erxes and AND Global are perhaps only well-known successful startups. We need more successful startup cases to incentivize investors in trusting and investing in Mongolian startups. 
-How COVID-19 pandemic has affected tech startups in Mongolia? 
-In fact, the COVID-19 pandemic has accelerated educational technology companies including TomYo. As you know, the education sector is rapidly moving to digital learning. At the beginning of the COVID-19 outbreak, public schools had no idea how to teach remotely so they tried to stream classes via television. Now, everyone is accustomed to teaching and learning remotely. 
During the lockdown, our TomYo Skills courses on artisan bakery and on entrepreneurship were the most popular courses on TomYo. Another trending course was on e-sports taught by world-class player Erkast. Some parents might find video games harmful but e-sport has become one of the forms of global e-sport competition. Today people make a career out of e-sport. In short, we strongly believe that we should not limit our courses only to academic courses or traditional courses. Our users should be able to try to learn different skills and discover career paths as e-sport players, pastry chefs, interior designers, or entrepreneurs. 
-TomYo World is designed to help students explore opportunities of studying abroad and to learn new languages. 
-In the past, only students with excellent English skills or who lived in Ulaanbaatar where they had privileged opportunities used to study abroad. However, students who live in rural Mongolia have limited access to information and their provinces hardly have language schools. Solution for that, TomYo's goal is to digitize the language courses and study abroad opportunities accessible on their mobile phone so that they too can dream of studying abroad. 
Due to pandemic, many people are deciding not to study abroad. However, many students are still taking language courses on TomYo. Initially, our target users were high school students but now we have university graduates, young professionals and stay-home mothers learning new languages or other professional skills on our platform, TomYo.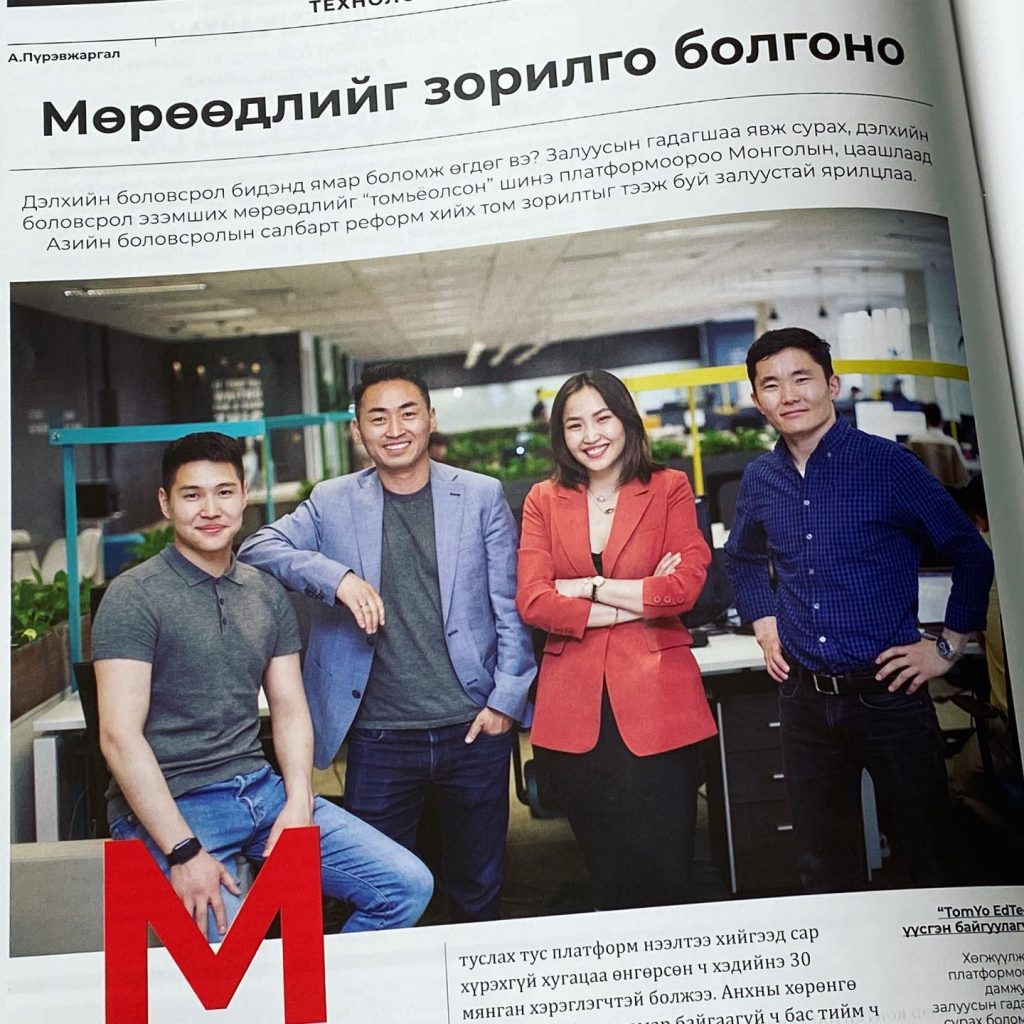 -Online learning is inaccessible to the most disadvantaged children. It is commonly believed that remote learning worsens education inequality between rich and poor. What is your opinion on that? 
-I agree with you. Educational inequality is the root cause of all poverty. For instance, if you live in rural areas, your source of information will likely be television or social media. This means you could end up not knowing that you can study abroad or learn languages online. 
That is why we aim to reach everyone including disadvantaged children. Our first goal is to digitize educational content. Then the next step would be how to reach disadvantaged children. For example, we could send our mentors to other provinces to consult kids to study abroad or even to learn new languages and skills.
Despite that, to ensure equal access to education, we need active engagement from the Government, schools, parents, mentors, volunteers, and students at a larger community scale. 
-How do you see TomYo in three years? 
-We plan to open TomYo high school with a thousand students in 2022. As a matter of fact, the construction of the school has already started. Our team has been working on this project since last year. We happen to realize that not everything can be done remotely or can be digitized. In other words, along with remote learning, we need a community, hands-on experience and project-based learning with peers in a hybrid approach.
Our high school will be a hybrid school harnessing both physical and remote learning. If our hybrid school proves to be an effective approach, we can franchise such a program to other schools and strive for democratized learning programs. 
Within the framework of trying a hybrid learning approach, we have opened TomYo Kids Club, a physical project-based learning center targeting 4-12 years olds. In doing so, we can plant seeds of life-long learning from kids to adults and peer to peer learning through our platform. After the COVID-19, we plan to organize an education expo with all our educational content creators such as language centers, mentors, agencies, and young professionals. Of course, our users will be able to attend the event and connect together as one big TomYo community. 
-Who are your competitors in the edtech market? What is distinctive about TomYo? 
-Locally, there is Aplus, Melearn and Skillsup as our online web-based learning platforms targeting skills-based online courses. TomYo, on the other hand, is a mobile-based platform that encourages peer to peer learning through our interactive mobile features and enables many different types of educational content creators to join and share their content. Another distinctive feature is having mentors on our platform. In fact, anyone can offer their courses or create content for TomYo and get paid when a user clicks in a similar vein to Youtube.
In Mongolia, the typical tuition for a 3-month full-time language program is around 500,000 MNT. It is relatively expensive for high school students and inaccessible for students from rural areas. To create affordable and accessible courses, TomYo offers weekly to yearly subscriptions which cost from 14,900 MNT per week to 365,000 MNT per year. By subscribing you will have full access to all our content on TomYo World. In addition, you can enroll in 10-30 days live courses with online classrooms on English beginner, Japanese characters, scholarship deep dive courses with the same subscription as well.  
-Do you plan to become a web-based platform like your competitors? 
-Certainly. We will have both websites and mobile apps synced very soon. We also plan to open a physical space, for events and learning communities, where for example users who are taking  IELTS courses can gather and have face-to-face interaction with the teacher and other users in their community class.
-What is the rationale behind splitting TomYo into "TomYo World" and "TomYo Skills"? 
-At first, we thought of having a separate application for "TomYo World" and "TomYo Skills" but ended up keeping them on one application to avoid any confusion and complications. TomYo Skills is designed for young graduates and professionals to learn a skill whereas TomYo World is for students who want to learn a new language or how to study abroad. These differences are also reflected in our design as well. TomYo World has a much more youthful colorful design whereas TomYo Skills has a classic and minimalist design. 
-The pandemic is causing an unprecedented crisis in service industries in Mongolia. However, most of the affected companies or self-employed do know how to adapt to COVID-19 in order to save their business. Hence, I was wondering if you are planning to offer courses for businesses on how to adapt to COVID-19? 
-We will definitely offer courses for businesses on how to adapt to COVID-19. Since the lockdown, the viewing rate of course on web creation soared on TomYo Skills. It can be explained by a transition to digital channels to adapt to COVID-19. I know that a lot of people have become interested in FOREX courses and social media marketing courses. Hence, in order to reflect our user's interests and demands, we might offer similar courses on our platform.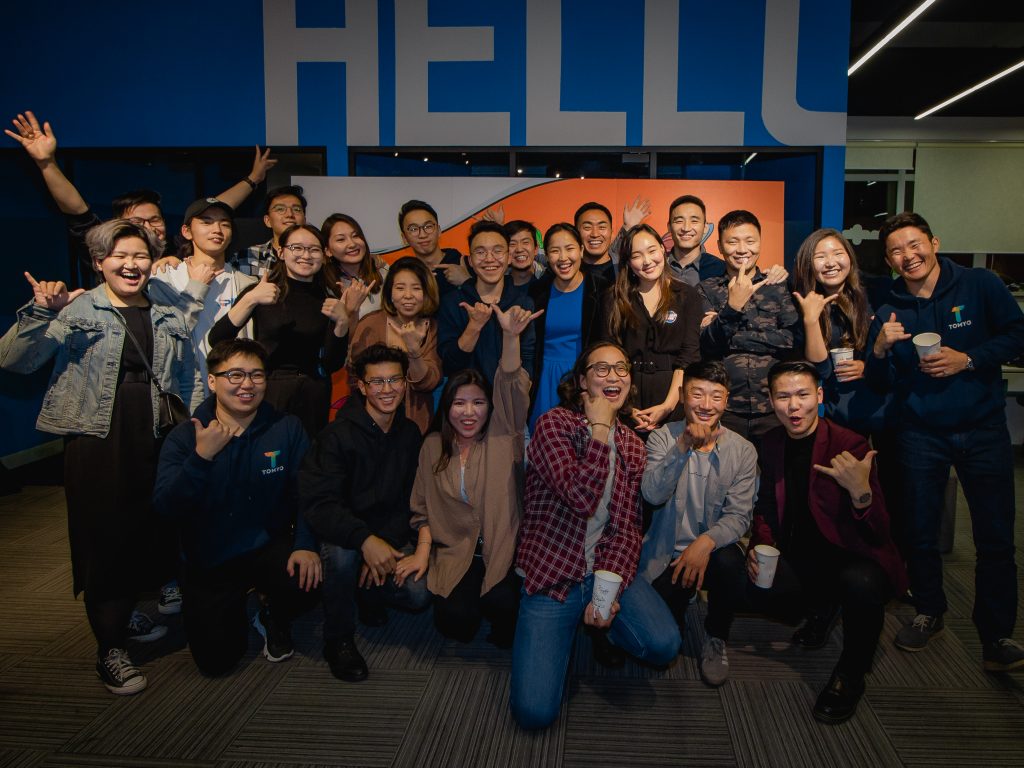 -You started our own business in Europe which is Yakmere? Could you tell us more about the Yakmere?
-I started the Yakmere when I was working and living in Europe around 2017. I was browsing high-end luxury shops and noticed that cashmere sweaters cost over 2,000 EUR. And yet this similar cashmere sweater sells for just over 100 EUR in Mongolia. So, I wanted to create value add from Mongolian natural fibers, and chose yak wool as an alternative for cashmere and started Yakmere as a personal project. Now, I work with two manufacturers, one in Erdenet and one in Ulaanbaatar and we mainly sell to customers in Europe. However, due to the pandemic, we have been unable to ship and market our products in the past year. 
-How did you find the courage to start your own company?
-Yakmere was started as a hobby when I was working full time at Mckinsey & Company. After a year and a half, I started seeing the potential in Yakmere. So I began meeting with investors in Europe and went full time to work on Yakmere. I thought if I fail at this,  I have an option to go back to Mckinsey & Company. Having a plan B that is my current job, gave me the courage to try out my business. Then last year, 2019 I joined Mr. Bayarsaikhan in his pursuit to start edtech because we strongly believed in the enormous cost of education and its impact on our society. For me, TomYo is more than just a business but a real social movement, something that could really make a difference in people's lives, even impact my cousins' and friends' lives in a meaningful way. 
-What advice would you give to people who want to start their own business but scared to do so? 
-I would definitely encourage people to pursue their dream. However, it might be a good idea to start your business if you have a secure back-up plan. As I said before when I started Yakmere and had an option to go back and work at Mckinsey & Company. Also, I would recommend anyone to work for a company for a few years so you could learn how the business world works before jumping in. While doing so, one could save some money for our survival days as a start-up and also create your own network in the industry. 
-Do you have any advice on choosing a co-founder?
-You need to find a co-founder who complements you in a skillset that you do not possess. Partner with someone who comes from a different background, experience, and network. 
-Do you mentor young entrepreneurs in Mongolia? 
-I consider myself a young entrepreneur who still needs mentoring from others. Having said that, you could sign up for a course on Entrepreneurship taught by V. Bayarsaikhan on TomYo Skills and schedule a meeting with him for mentorship.
-What would you want others to know about Enkhjargal?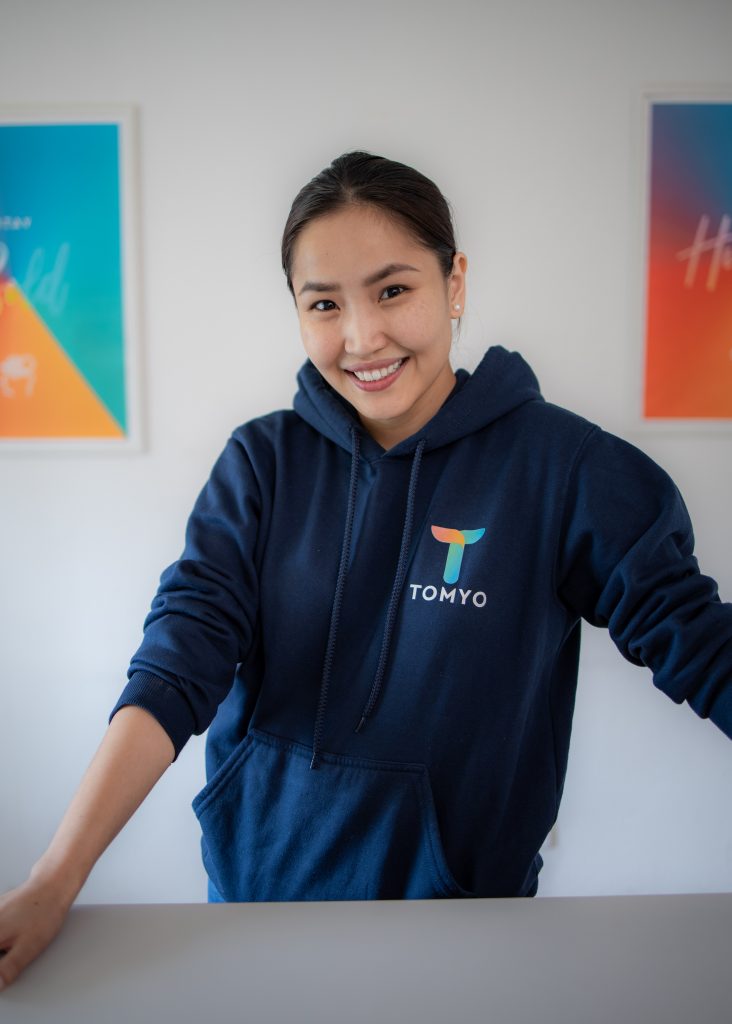 -Many of my friends do not know that I am a newbie to Ulaanbaatar. I was born and raised in Erdenet and studied and worked abroad for the past ten years. So, I am enjoying and discovering the charms of our capital city in person for the first time rather than all the horrendous news on the articles. 
The other fun fact is that when I was in the United States, I joined our university tennis team and toured at national tournaments while I was terrible at playing the sports. The opportunity presented because I was one of very few Asian female students at my university. One day, the table tennis coach who just saw me at the gym called me and asked if I could play table tennis. When I said "Yes, but not at a professional level", the coach asked me to join the team as he needed another female player to start the tour. So I toured around 20 states in the United States for the national collegiate championship and even got an athletic scholarship just for being an Asian. 
-What does the day in the life of the COO and co-founder of TomYo look like? 
-Since we started working remotely, we have been working much more efficiently. We have a conference call in the morning to learn each team's progress on their projects. If one of the teams is having difficulties I would make a follow-up video meeting with the team leaders. Furthermore, we are putting efforts into expanding our partnerships with other companies in Mongolia. For instance, we want to integrate with Upoint so our users could make payments using their Upoints.
Previously, we made a data-free deal with Mobicom. Now, all our Mobicom users receive free data on TomYo app which can enable people who do not have internet access to use TomYo app.
Currently, we are exploring opportunities in other countries. Therefore, I am applying for global accelerators, especially in the United States. I am truly passionate about our mission and the company. Thus I always strive to look for and seize more opportunities for TomYo each day.
-If your life were a newspaper article, what would be the headline? 
-The Bold Story – that is also my social media handle. My philosophy in life is to live daringly and be bold about things I care about.