Charles Hubbard: We are often asked whether the SFA fiber is sustainable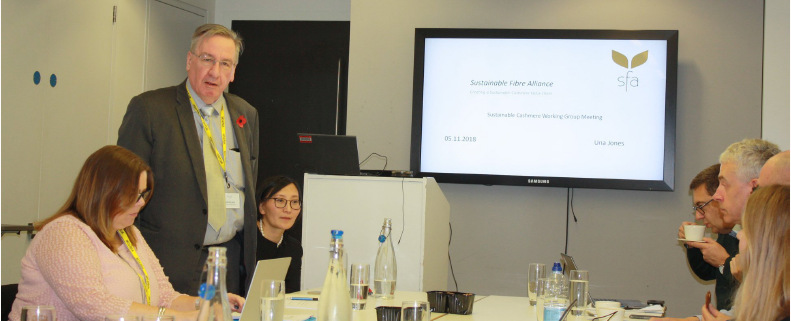 The Sustainable Fibre Alliance (SFA) Chairman Charles Hubbard spoke to the Mongolian Economy magazine.
-Some time has passed since the SFA started operating in Mongolia. How much has your work progressed at this time?
-Since 2015, the first couple of years were really about settling the organization and getting ourselves established here in Mongolia. From 2016, we were probably beginning to do work here in Mongolia from a very low level. Primarily because we want to check that the interventions we were looking at we are going to work.
Progress since 2016 has been good. We had a slow start because we were finding out whether we had got the right to approach these communities. Once we had completed that progress, it has been a lot better. In 2017, we held our first conference that got the ball rolling. After that, we saw a significant increase. We have grown since then. Now we are operating in 11 provinces and over forty herding communities (cooperatives). We have grown quite a lot. Seeing from the conference that we held in May, we are getting more interests in the countryside. Additionally, we get much interest from organizations within the government. I met with director of the Light industry policy implementation and coordination department of the Ministry of Food, Agriculture and Light Industry  . We had a very productive meeting and we think that a lot of the work that the Sustainable Fiber Alliance is doing will line quite nicely with some of the planned activities that the government planned along with the introduction of the Mongolian Noble Fibre initiative.
-You work in collaboration with the herder cooperatives who are at the primary stage of cashmere production. To what extent are they adapting to your operation?
-What has been noticeable is the increased understanding of good animal welfare because this is very important to international buyers. The customers are very concerned about the welfare of the animals that produce fibers like cashmere. The Sustainable Fibre Alliance is doing work like that to highlight the importance of treating animals well.
–Mongolia's agricultural sector is outdated in the technological aspect. Even the goat is still being hand combed. Is it possible for new technology to be introduced in this area?
-Technology isn't an answer to everything and there is a good story when you look at traditional methods. The introduction of technology for technology's sake can be a bad thing. There is a story that sits behind a traditional method of combining fiber that adds value to the customer. They can see that fiber has a strong base in tradition. Improvements start to come from technology once fibers been harvested. In these terms, traditional methods that are better and whilst I know there are some advocates of shearing; in Mongolia, shearing could be a bad thing.
Mongolia begins to get a higher profile in the cashmere sector at the brand level
-As a result of your operation, how much has the tendency of the brands within the SFA change? How did the customers' attitudes change?
-Change takes time and not everybody is open to change. In terms of international buyers, they are only just beginning to recognize that it has been done by organizations like the Sustainable Fiber Alliance in Mongolia. This can have an impact on the improved sustainability of the cashmere sector. When we talked about sustainability we talked about improved lands, improved methods of collected fiber. At the start of the journey, more and more international brands are beginning to realize that this is a journey that they need to join. Also international companies are beginning to become aware of the need to demonstrate that they can identify the origin of some of the fibers they use in their products. This is very difficult in some sense because the supply chain from the herding community to the retailer is quite long. It is not so much of an issue where all of the processes take place in one country as you have here with some cashmere manufacturers here in Mongolia. But when the fiber leaves Mongolia and goes into the supply chain, it is more difficult to trace. Even though the supply chain is long, more and more brands have recognized in the impact that Mongolian cashmere has when it's mixed with the cashmere fibers say from countries like China. This is why they are supportive of the work that the Sustainable Fiber Alliance does. Due to this, it means Mongolia begins to get a higher profile in the cashmere sector at the brand level.
–In regards to geographical location, have you traced the source of cashmere at every stage? Is there anything lacking in this regard, and what initiatives are being implemented?
-Traceability is not easy. When you have a vertical integration process within one country, it can be done. However, when you look and try to trace the fiber through a complex supply chain, the actual origin can be lost. What I would say is that the Sustainable Fiber Alliance has tried to explore the potential for traceability up to the clean fiber process. There is a Mongolia government policy to improve the export quality of wash fiber. Therefore, we would be able to export wash fibers that have a certain amount of providence. Currently, we are exploring with our brands what will work and we are looking at the potential for a trial here in Mongolia. This could happen next year if we come up with the right model.
–You now certify providing certification to herding companies. Will you continue the certification for the industry as well?
-Yes, I think one of the things that we need to be clear about is the difference between certification and registration. What we are currently creating is a register of herding communities and also hopefully in the future processing plants that are following the Sustainable Fiber Alliance. At this moment we cannot say that this cashmere fiber is certified as sustainable. I want to make that clear. We are often asked "Is SFA fiber certified sustainable?" and the answer is no. We cannot prove that the source and the conditions under which fiber was collected are sustainable. However, it is from registered herds who are following the SFA's code practices which will in the fullness of time, may lead to the sustainable production of fiber.
When we talked about sustainability we talked about improved lands, improved methods of collected fiber
–What would you call sustainable fiber?
-Sustainable fibers are dependent on a lot of conditions. It's not just the way that goats are looked after. It's the way the land is managed and even though that herding communities can take measures, you only need a bad weather event to take place and all the good work that is done in that year is undone. You cannot claim that your work and sustainability until you have sufficient value of grassland and a sustainable program. Our reach at the moment is quite small. Once we have a wider range, then, we have more grassland under management and can start to begin to talk about sustainable areas of Mongolia. Stopping the weakening of pastureland in the particular region, and once regeneration has started to occur, only then can we call it sustainable fiber. Behind the word sustainable, there are many sectoral issues.
-What methodologies do you use to monitor the degradation of pasture land?
-We have a self-assessment carried out by the herding community when they first register with us. Annually, we monitor any progress that we are making towards complaints with a requirement of our practice. In terms of scientific measurement, that is something we have to investigate and we know that any intervention at that level requires years of research to establish, not only the baseline but also any change. As I mentioned earlier, the effect of climate change can speed up that change or slow it down. In terms of actual measures that we put in place that is something we are investigating. There are other agencies that are probably more scientifically based than we are but rather than taking an academic approach, we decided we will take a more hands-on approach by involving the herders and helping them recognize visual symptoms of degradation rather than trying to confuse them with a scientific data that they may not understand.
The majority of Mongolian cashmere is being exported out of the country at the border. Through the operation of the SFA, middlemen have been eradicated, and the production line gets the raw materials directly from the herders. Your organization is to join the ISEAL Global group, an organization of environmentally friendly business operators.
Sustainable fiber alliance is the only international brand led organization operating in Mongolia in the area of sustainability and there is more interest because of issues, like sustainability, that are affecting the retail markets in the rest of the world. However it is unlikely that the role of middlemen will disappear in near future although we would like to see our members purchasing directly from our registered herders. But this requires our members to have confidence in our work and one way we do that is to have some form of recognition. This is why we all look into having our codes of practice validated by the organization called ISEAL. ISEAL is an international organization linked to the sustainability of the environment. It also means that when we talk to other agencies, we have confidence in knowing that our processes have been validated by an independent third-party.
What we want to do with the government would be to understand all of the issues that surround the cashmere industry in Mongolia right through from the herder to processing to the manufacturer including cashmere that is exported
–What is the current production of sustainable fiber, and their export price?
-Currently, as we understand, about 20 tons of cashmere from six herding cooperatives is being produced domestically in 4-5 domestic factories and being exported to the European market.
-Two years ago, the CEO of Johnstons of Elgin, Simon Cotton came to Mongolia to find out how the price of cashmere is set in the Mongolian market. To improve the competitiveness of cashmere in the Mongolian market, how do you see the cooperation with the Mongolian Government?
-I think what Simon tried to point out was that at the moment, there are so many different factors that influence the price of cashmere. It can be the weather, the financial position of the herding community or herding family. It is also the role of the trader who collects from the family or herding community and passes that all fiber into processing plan or sells it directly into China. In a commercial competitive capitalist environment, it's down to the availability of cashmere that will affect the price. So in good years, when there is plenty of cashmere, the price it will probably be low. In other years if cashmere isn't plentiful, the price will probably be high. That's how the market will dictate it. The government might be able to look at the price for types of cashmere and may be able to influence the buying price. My view is a little bit early to say that there will be a guaranteed price for sustainable cashmere. What we want to do with the government would be to understand all of the issues that surround the cashmere industry in Mongolia right through from the herder to processing to the manufacturer including cashmere that is exported. I think that Simon is looking at his improvements, quality of fiber, and the durability of cashmere fiber. At that point, his representatives could make decisions to buy directly from Mongolia. I think this is really what the Mongolian government wants. They would like to see people buying directly from Mongolia rather than it going to China or elsewhere for processing or manufacture
-How do you evaluate your operation in Mongolia?
-In the past four years of operating in Mongolia, the SFA's capacity has grown. We can see that growth in the future as well. The one thing we need to be mindful of is the changes that are happening in Mongolia, the effect of climate change, the effect of the government and understanding how we can fit into that debate, and make a contribution. We think because we represent international brands, we can bring a slightly different perspective to the debate held in Mongolia around what to do with the cashmere industry. The main reason is that we are the only international brand organization base working here in Mongolia helping to make directed investments, implement new technologies, and have an accurate understanding of the market.