Cliffe Arrand: Pioneering the hospitality industry in my adoptive home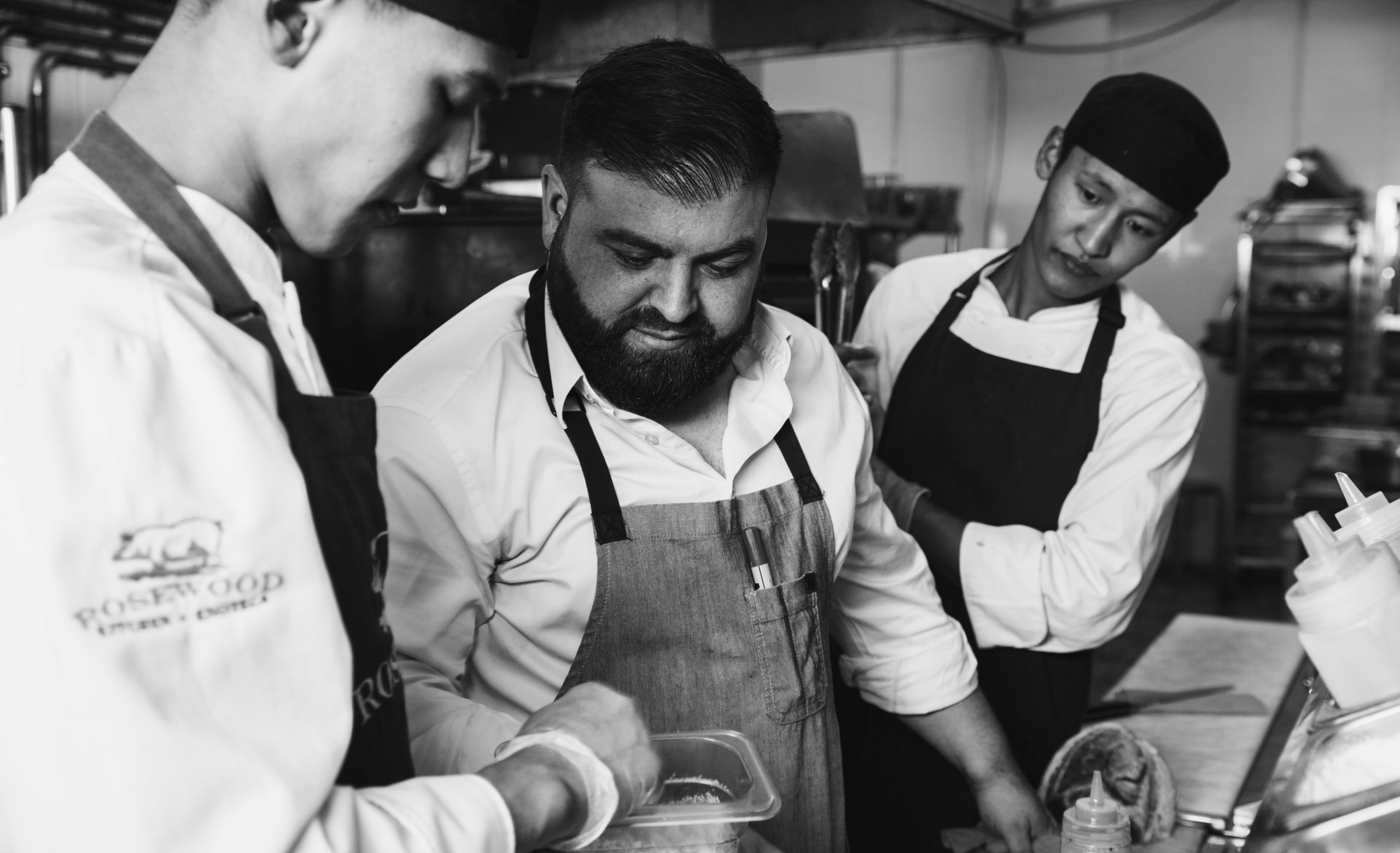 Mongolian Economy magazine spoke with Cliffe Arrand, the Executive Chef, Creative Director and Owner of Rosewood Hospitality Group, about the journey of the Rosewood brand, their core values, and agile business model. 
-Could you introduce yourself to our readers?
-I'm Cliffe Arrand, the Executive Chef, Creative Director, and Owner of Rosewood Hospitality Group, based in Ulaanbaatar, Mongolia. 
-Why did you decide to become a Chef? Where did you learn culinary arts? 
-To be honest, I didn't choose to become a Chef, this life chose me. I've been in the hospitality industry pretty much all my life. I got my first job as a dishwasher when I was 12 years old. During the 1950s my grandfather opened an Italian restaurant called DeQuattro's in Massachusetts. He also owned several other restaurants and bars. We could say that my grandfather was a mover-and-shaker in the local hospitality industry. Passion for food runs in my family, it's ingrained in me and drives me to do what we're doing today. I'm a self-taught Chef and I've had every possible job in the industry, from dishwasher, server, general manager, to cook. I've been in the industry for almost 25 years now.  
-What brought you to Mongolia? 
-That's an interesting story. I met my wife in the United States. She moved from Mongolia to the United States when she was 12 years old. In 2009, my wife's parents opened Sachem Coffee, the first locally roasted, imported raw bean coffee company in Mongolia, and they opened a coffee shop to go with it. They asked us to do consulting for them from the United States, and we used to Skype back and forth. Then, they asked us to come to Mongolia for two weeks, to help them finish the project. It was meant to be a mix of meeting the parents, getting to know the country, and working on the business. We flew over here for a two-week vacation and consulting job. However, like most things in life, it did not go according to plan, and everything took much longer than we anticipated. We decided to extend our stay, to properly get the cafe situated. My wife's youngest sibling was two years old at the time, and she was a stranger to him because she lived in the U.S. She is so close with her siblings, and it pained me to think he would grow up apart from her. The night before our scheduled flight back home, I suggested that we stay for about a year, so that she could be in his life. But one thing led to another, and here we are running restaurants, a grocery store, and a butchery in Mongolia. 
We're a husband-and-wife team. Our goal is to make people happy, and we strive to do that every single day. I feel blessed to have the person that I love right beside me, working towards the same goal. She's the driving force behind the Rosewood brand. My wife and I may work 80 to 100 hours a week, but it's always fun and never feels like work. We like to say, "Find something you love and do it every day."
-Why did you decide to open your own restaurant instead of working at a well-established restaurant in Mongolia? 
-I opened my first restaurant when I was 22 years old. I've been in ownership and management for quite some time. When we settled in Mongolia, it made more sense to open a restaurant and keep moving forward. 
-What were the most demanding challenges in opening a restaurant in Mongolia?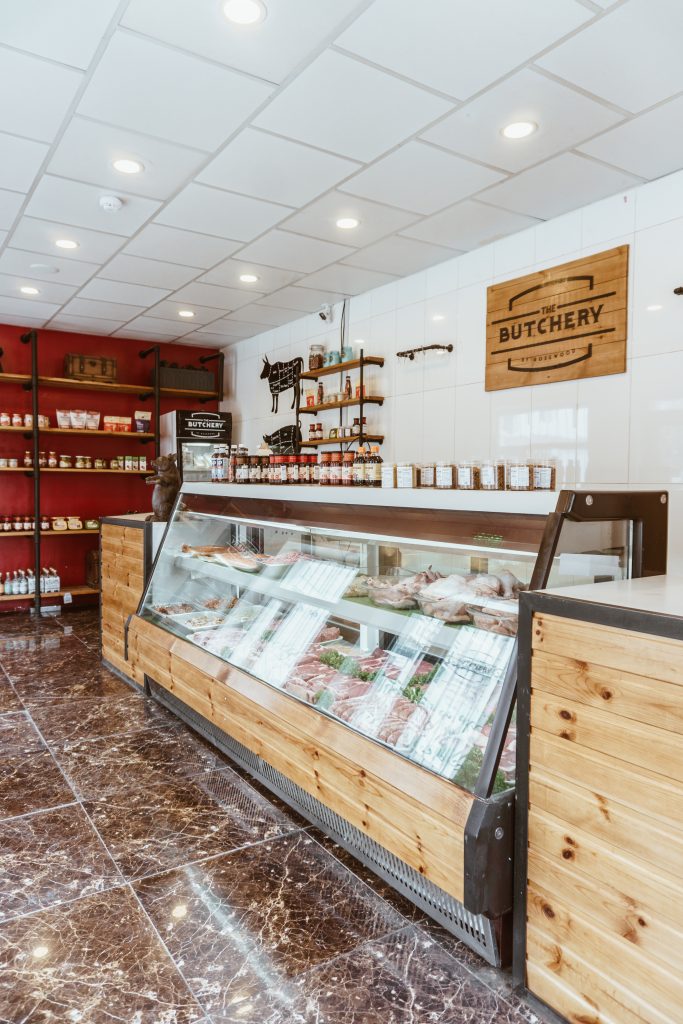 -The most challenging things about Mongolia, for what we do as a company, are ingredient sourcing and dealing with distribution networks. What we've basically done here is build our own networks. If something I needed wasn't here, we would either produce or create it ourselves. That is why we are such an agile company. For instance, when we opened Rosewood Kitchen + Enoteca, we wanted to have a really good steak menu, but I couldn't find the steak cuts that I needed. So, we decided to open a butcher shop to have the proper steak cuts that we wanted. It's given us more quality control. Consistent quality is an important part of our business model. Even though it tends to be easier to just buy whatever is readily available, we prioritize the quality of the product that we serve. We prefer making something ourselves, rather than importing it, which allows consumers to spend less. This is what differentiates us from other companies.
Our business growth has been very organic, built on the idea of meeting a necessity. Whenever we see a problem, we look for our own solutions. Opening The Butchery was the solution to the steak problem. Then we thought, why would the steak cuts only have to be for us? So, we decided to open The Butchery to share our resources with the community. The idea of the butcher shop was to sell meat to consumers, but mostly supply our restaurants with meat. However, what ended up happening was that we were selling more meat through retail sales than we were butchering for ourselves. Guests really wanted it because it was something that wasn't readily available before. Now, we have many more options at The Butchery. 
The catalyst for the grocery store, The Market, was the same idea. I'd spent around 10 years sourcing the best quality ingredients for our restaurant. Then we thought, why can't these items be available to the retail market, to regular consumers? Nearly every ingredient and every product we use at our restaurant are sold in our grocery store. That means The Market is filled with high-quality products, such as local organic produce, a large variety of house-made sauces, deli meats, and anything you a home cook might need.  
-The Market by Rosewood offers a wide variety of fresh greens that aren't available in many other stores in Ulaanbaatar. Do you grow them yourself?
-We don't grow them. Our goal is to use as many local products as possible, so we work with several local farms. The industry is truly growing, and more people want locally produced food. We want to buy local products as much as we can, in order to help local farmers grow their business. As a matter of fact, Enkhzaya and I are members of the Organic Development Cooperative Certification Organization, an association working toward creating Mongolia's first organic food certification program. 
-What do you produce yourselves? 
-We produce all of our sauces, tortilla chips, mayonnaise, dumplings, meatballs, and cut our own meat. If you go to our grocery store, 20 percent of the products are house-made products that are free of industrial preservatives, artificial flavoring, and other chemicals. All our house-made products are made from scratch. One of the most popular dishes at Rosewood Kitchen + Enoteca is our hummus with crispy cauliflower and pomegranate seeds. This same hummus is sold at The Market, and that means you can take the same quality product home. We always make sure that our products are high-quality. We don't just sell products, we build trust. That's what we believe in.
-How often do you change or update your menus? 
-We do seasonal updates. I try to be creative, so I'm always moving and trying new things. If I see a new ingredient, it inspires me to come up with something new for the menu. It's spring, which means it's khaliar (wild ramp) season in Mongolia. As soon as khaliar hits the market, it'll be all over the Rosewood Kitchen + Enoteca and La Rosa menus.  
-Do you have a signature dish? 
-I wouldn't say we have a signature dish because we have so many different culinary concepts. That's why a lot of people love our brand, and that's also what excites us. We try to diversify our menus, but we still give our guests their favorite dishes. Our steak is really good, and the hummus dish is one of the dishes people really love. We're also known for our Cobb salad, which we've had since we opened, and the dressing is sold at The Market. During the lockdown, as we weren't able to produce enough dressing, two guests were arguing over who was going to get the last two bottles because they wanted to make our Cobb salad at home. 
Through the lockdown, it was really hard for everybody, but we were able to provide a little bit of joy for people while they were stuck at home and give them a taste of what they love. 
-You opened La Rosa, a non-traditional Mexican and Spanish-inspired restaurant. Why did you decide to diversify your brand instead of opening new branches of Rosewood Kitchen + Enoteca? 
-As a business owner, learning from past mistakes is a key part of doing business. In 2015, we had three branches of Rosewood restaurants open. We thought that copying and pasting Rosewood in multiple locations would work. Unfortunately, there wasn't enough demand for offering the same things at three locations, so we ended up closing them. It was bittersweet, but we learned that we are never going to open a restaurant with exactly the same concept again. This decision is, of course, unique to the Mongolian market and to our company. We have a very specific clientele; our business model is not about targeting the mass. That means Ulaanbaatar can only really carry one of each of our restaurant concepts right now.
The beauty of Mongolia and the Mongolian people is that they crave change, have a lust for really good food, and quickly adopt new ideas. We believe that we have the ability to do that as well. So, as we grow, we'll continue to offer new, fresh ideas with the same quality, integrity, and trust. Moving from Rosewood to La Rosa was a very easy transition because people knew that the food and service at La Rosa are going to be as good as they would expect from Rosewood Kitchen + Enoteca. Our guests know that we put our blood, sweat, and tears into what we do. La Rosa Tapas & Tequila Bar was opened on the 2nd of October 2020, in the middle of the global pandemic. My wife and I give our best effort to each project. We spent an extensive amount of time in Mexico, meeting with industry experts before opening La Rosa, in order to truly understand the Mexican culture, cuisine, and culinary techniques. La Rosa is not a Mexican restaurant, just as Rosewood Kitchen + Enoteca is not an Italian restaurant. They're both chef-driven restaurants. This means the food is my expression of how I feel that particular dish should be executed. Every now and then, we do hear some guests compare our tacos to a taco they had in Mexico, our burger to one they had on the East Coast, or our pasta to one they had in Italy. There is no one correct way to make a dish. That's the beauty of it. Food is an art. Our restaurants and house-made products are my artistic expressions, so it will most likely not be the same as a dish you have had before. And that, on its own, is something I take pride in. 
-During the lockdown, you were selling fast food. What was the idea behind that project?
-We did a pop-up fast food chain called Fat Hen Chicken because we wanted to do something fun during the lockdown. I had the fried chicken sandwich concept bouncing around in my head for a couple of years so I wanted to see how it would go. The ability of our company to pivot to different things gives us the flexibility to try new things. Fat Hen isn't a traditional fast food concept, it's adult fast food. We turned fast food into a high-brow dish by incorporating quality ingredients and style. 
Our chicken pop-up was really well-received, more than we anticipated. We sold out every day for five days and got 300 orders in 30 minutes every day. The idea behind it was to bring a chef-driven concept of fast food with high-quality ingredients, house-made sauces, and no preservatives. I love junk food, but why does it have to have chemicals and low-quality ingredients? Why can't a fast food sandwich be made with high-quality butter and buns? Fat Hen Chicken really took off! I'm excited to say that we're going to open a restaurant at the end of July. 
-Rosewood has become one of the most recognized and respected hospitality groups in the city. What makes the Rosewood Hospitality Group unique? 
-The unique thing about the Rosewood Hospitality Group is our people and the way we operate. We truly believe that you're only as good as the people you surround yourself with. We look to our people first and to guests second. Our goal is to make sure that our company is a place that makes a difference, makes our people feel like family, and feel at home. That, in turn, will make our guests feel that way. We don't refer to our team members as staff or employees, they're "our people ". Our guests are our hearts, our people are our souls.
So, it's really about the people that we employ and the way we empower them to be part of our team. We're also a very "open book" company. For instance, I don't hide my recipes, all of our cooks know how to make everything. We're all about educating and training. All of these things give us the ability to pivot to new ideas, like Fat Hen Chicken. My favorite management principle is the well-known conversation between a CFO and a CEO. The CFO asks the CEO, "What happens if we invest in developing our people and they leave us?" The CEO says, "What happens if we don't and they stay?" We live by this principle.
-How do you train your staff at Rosewood Hospitality Group? 
-We take a multi-pronged approach to training. We do informal and formal training. We also do a lot of mentorships, hands-on cooking with me, tastings, and online training as well. For instance, when we opened La Rosa, our whole team took part in online training with a mezcalero, a mezcal expert from Mexico. We did a three-hour Zoom call and tasted mezcal together. We also have a website which is full of training materials and videos for our people. 
The feeling of hospitality is ingrained in Mongolian culture. I tell my team, remember going to your grandmother's house, during Lunar New Year, or a trip to the countryside. Right after you walk in the door, they embrace you with open arms and then hand you a bowl of tea. That's the core value of hospitality. 
Our team is here to give you an amazing experience through the Rosewood brand. We check on our guest's dining experience, which isn't common in Mongolia. I like to believe we introduced this concept here. We come over and ask our guests if they're enjoying their food because if there iss a problem, we want to fix it right away. For example, if your steak is overcooked, then we want to bring you a new one right away. We want Rosewood to demonstrate hospitality at its best.
-I noticed that you have quite a few job openings at Rosewood Hospitality Group. What are some of the criteria for recruitment? Do you need to be able to speak English to apply?
-We're growing and expanding, so we're always hiring. We make hiring decisions mainly based on personality. As I mentioned before, we've built a family and we believe that if a person has the right attitude, they can gain any technical skills. Most importantly, they must embrace the core values of our brand and be a hospitality-driven person. We call it "hospitality from the heart". 
You don't need to be able to speak English to apply. A lot of our people started with zero English and learned English while working with us because we have a lot of expat guests. We do offer some English language courses to our staff. I think I should speak more Mongolian than I do now. When I'm training or cooking with my staff, I try to speak as much Mongolian as possible. 
-Rosewood Kitchen + Enoteca hosts a half-price wine night every Wednesday. What other discounts and special offers do you have at The Market, The Butchery, La Rosa, and Reboot? Do you offer perks to your loyal customers? 
-We don't offer any other deals, loyalty cards, or anything else like that, because we believe that we are offering the best quality products at the lowest prices. We truly believe that the quality of what we're offering warrants the price, and we aren't overcharging for it. In other words, we're already offering you the best deals.  
That being said, a year ago, we started the wine night. At Rosewood, we have an extensive list of wines that are hand-selected by me. We have really amazing wines, so we wanted to get people to experience more of the hand-selected wines we have on our list. That's why we started the half-price wine night. It's a good deal and it's fun. People get to share some wine that they have never tried or have been out of their price range. This night isn't meant to increase sales but to encourage the growth of a "wine and dine" culture.
-Some people find it hard to pick a wine, and some people don't know how to pair wine with their food. Do you have any tips for our readers? 
-Wine pairing, for me, is about personal preference. The rule in wine culture is that there are no rules. Drink what you like! I always suggest not shying away from dry wines. It's more about the country of origin, Old World or New World. It's about the body of the wine and the occasion. The type of wine paired with food is very different from one enjoyed on its own. For people new to wine, I would suggest first experimenting to see if you like the Old World or New World. Then, experiment to see which grape varietals you would enjoy. When ordering at a restaurant, using these parameters should be a fairly foolproof way to order.  
-Could you tell us the purpose of "secret shopper"? 
-We've been using secret shoppers for years. We really value our guest's feedback. It's really important to us that we are constantly doing things correctly and constantly correcting the things we got wrong. In the restaurant business, you can't avoid making mistakes, so it's all about how you work to fix those mistakes. For us, the secret shopper is about keeping an open line of communication with our guests. We'd been doing it more internally, and as we grew bigger, we wanted to reach out to the community and get them involved. It's important for us to get real-time feedback from real guests. Based on that feedback, we make decisions and changes. Another unique thing about our Rosewood brand is that we're truly flexible. Some businesses tend to stick to their old ways of doing things, but we try to see things from outside the box. 
-You have a recipe blog on The Market by Rosewood website. Do you plan to expand your recipe blog? Have you thought about opening a cooking studio in Mongolia? 
-That's something new. Throughout the lockdowns over the last year and a half, we've been diving into the IT side of our business. We developed an online delivery service, and now everything in our grocery store is available online. We also want to offer more recipes that people can enjoy with the quality products they bought from The Market. It's still in development, but you'll see more there in the future. 
We've also been doing Zoom cooking classes which have been really fun. We're going to develop that further. There are lots of amazing ingredients in Mongolia, but there isn't enough content on how to prepare them, especially for those who don't speak English. Cooking content in Mongolian is relatively limited, so when we do cooking classes we do them bilingually. We've talked about opening a culinary school. It's possible, but at the moment, we don't have any immediate plans to open a cooking studio. 
-People have a fear of cooking, which can take many forms. Some are afraid of cooking for large groups, or even for their family members. What advice would you give to people who are scared of cooking for others? 
-Cooking should never be stressful. Leave the expectations at the door, experiment, and have fun. If it does not work out, have a laugh and move on. Try to master the basic techniques because with the basics in hand cooking becomes easier. The key to cooking for a larger group is to cook clean and start organizing. 
-Did you have a takeout or delivery system before the pandemic?
-Yes. We had takeout and delivery for Rosewood Kitchen + Enoteca, but not for The Market. Before the pandemic, we used to do delivery through a third party but decided to keep everything in-house. We want to make sure that we offer consistent, easy, and smooth service to our guests. We want to make sure that even if you're shopping online with us, or getting food delivered, you get the same hospitality-driven experience. 
-What actions have you taken to adapt to COVID-19 measures and restrictions? 
-The food industry is the cleanest industry in the world if you run your business in the right way. The idea of gloves, masks, and disinfecting things is what successful restaurants are built on. The COVID-19 pandemic has definitely shed light on these protocols. It makes you think harder about all those things and dig deeper into following safety protocols. We've been doing that for years. 
The world is changing. People are adapting to shopping online, staying home, and cooking at home. Some of the new habits will stick around even after the pandemic. We want to make sure that you have great dining experiences at home by giving you the best products we can.
-Who do you see as your competitors?  
-I don't see other businesses as my competitors. The food industry is as vast as the ocean, and a rising tide lifts all boats. I think the food industry has room for everyone. There is not enough community and togetherness in Mongolia's restaurant industry. Hence, I would love to see more of that here. 
In the United States, it's very common for chefs to hang out together after work. I could call somebody and say, "I need a bottle of booze" and run to the restaurant next door to get one. In other words, I see the potential for restaurants to operate as partners, a community that's working toward making Mongolia's food industry better. 
-What is your favorite restaurant in Mongolia? And your favorite restaurant outside Mongolia? 
-I love the Bull Hot Pot Restaurant chain. I think that they do an amazing job, and their food is great. We love Sakura Bakery and their fantastic udon soup. We also like the Chinese restaurant Xiang He. Namaste is also our family's favorite. Those are places where we go out to eat, and we also cook a lot at home.  
Outside Mongolia, Ronin in Hong Kong, Ori Menashe's restaurants in Los Angeles, Jamie Bissonette's flagship Toro in Boston, Gabriela Camara's Contramar in Mexico, Yasuda in Tokyo, which sadly closed during the pandemic. There is also Pho Pasteur in Boston and Sqirl, my friend's restaurant in Los Angeles. We love to travel and eat at small restaurants that put feeling behind what they do. For me, the food industry is such a passionate industry, so the restaurants we love to eat at reflect the passion of the people who operate them. 
-What advice would you give to restaurants that are struggling during the pandemic? 
-The good news is that we're moving forward. This summer, people will be so excited to go out and explore new things. Now is the time to dust yourself off, tighten up your operations, check on your food costs, and to stop doing things that aren't working. Last, but not least, buckle up because, in the next couple of months, people will be going out and spending money. It's a great opportunity for restaurants to recover from all those months we lost. 
-Where do you see yourself in five and 10 years? 
-Our goal is to continue to build on our hospitality brand. Also, we want to empower people, bring more people onto our team. We want to offer the best food and services we possibly can. Where it goes is going to be very organic, the way we grow our business. If it doesn't feel right, we don't do it. I've turned down so many opportunities that didn't feel right at the time. We really believe that when we do anything that is purely financially motivated, it never ends up working. We want to make sure that we do something that we believe in and feel is going to work. 
-Before we end our interview, is there anything you want others to know about you and the Rosewood Hospitality Group? 
-I'm a guest in this country and honored to do what we do. Our goal is to make people happy. I love making people happy, and it drives me to keep growing. I'm so happy that I've been accepted here with open arms, and that I've been able to make a difference in the hospitality industry. We'll continue doing that through our future projects and making Rosewood into a stronger brand.