Gateways to discover Mongolia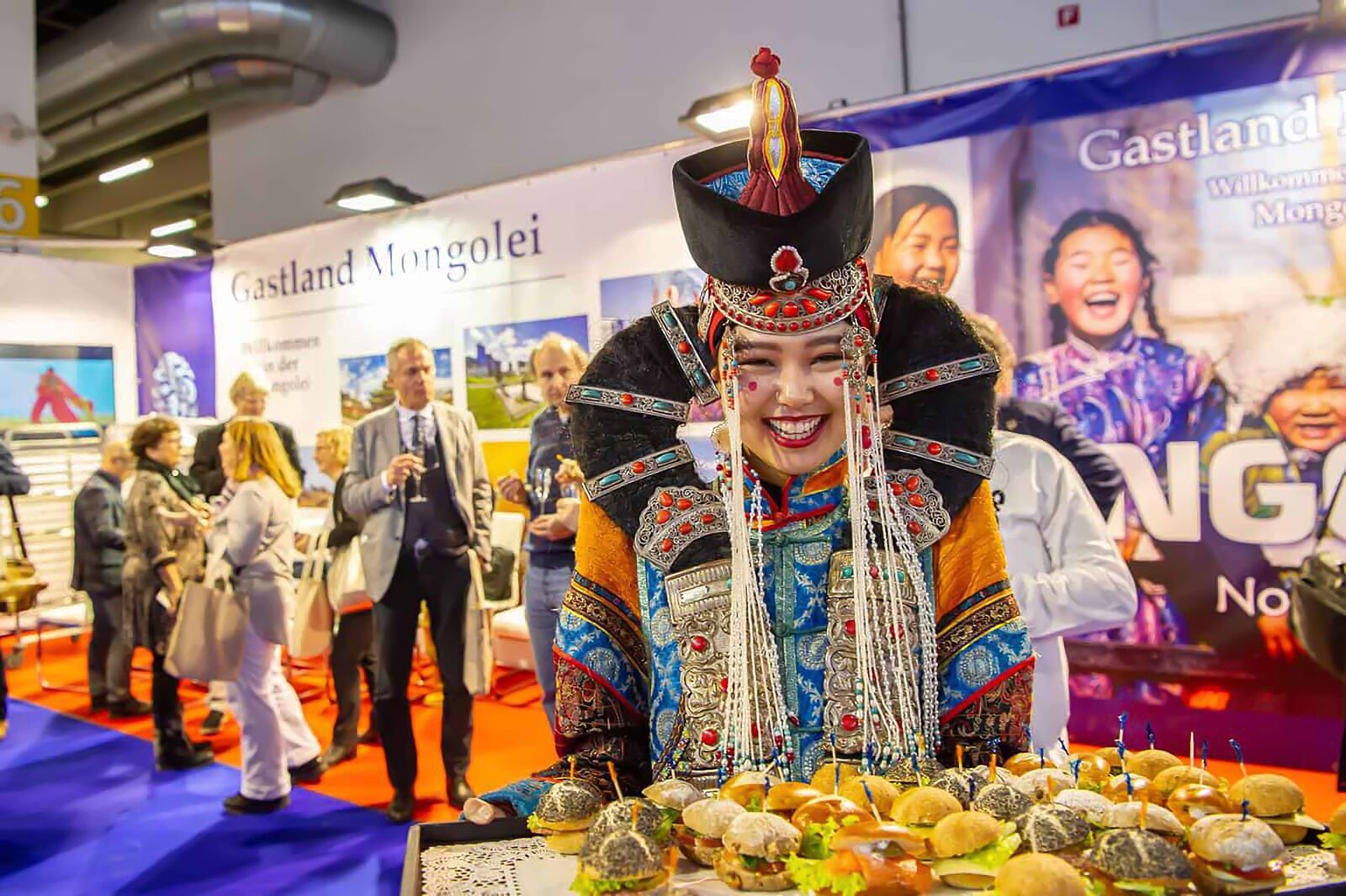 Around 110 million tourists go online to search for opportunities to visit Mongolia and get to know about its nature and historic and natural heritage, according to Amadeus, the leading global travel technology company. Moreover, the number of global tourists, which reached 1.4 billion in 2018 is expected to grow by 4 to 5 percent annually and most of the tourist flow will center on Asia, specifically on China, reveals the "Megatrends Shaping the Future of Travel: 2019 Edition", a research report by Euromonitor International, a provider of strategic market research. This could lead us to assume that travel packages to Shanghai Tower or Huangshan mountain would be more interesting than going to the Eiffel Tower or Loire river by 2030.
In short, the macro environment of Mongolia's tourism industry bears a very positive look in the long term. Indeed, Mongolia is making every effort to seize this prosperous period. For instance, Mongolia improved its ranking by eight places to move to 93th on the Global Competitiveness Index-2018, compiled by the World Economic Forum. Such progress was largely due to improvement in hygiene, government policy and ability to circulate natural and cultural property.
Mongolia`s competitiveness, however, is still the worst-performing in the region. The main reasons that undermine Mongolia`s competitiveness in the long term include prioritization of travel and tourism is unclear, international openness, in other words, the visa application process is not satisfactory, underdevelopment of infrastructure and quality of tourism sector. Basically, the above mentioned are the most pressing issues in Mongolia's tourism industry today.
State policy on tourism was approved
The State policy on Tourism was approved by the government on 21 August 2019. The policy targets developing long term strategy for the tourism industry which is defined as one pillar of the economy, solving most demanding issues concerning the sector and becoming a tourist-friendly country based on the state and private sector partnerships. When the growth of the tourism industry is expected to increase by minimum level annually, revenue from the sector could match the mining sector's export income by 2050, it was estimated in the Mongolia Sustainable Development Vision.
Service quality should meet international standards
When tourism was officially declared as one of the key priority directions of the state policy, it enabled to increase a state budget for the tourism industry and improve internal resources that promote Mongolia`s competitiveness. In terms of service quality, Mongolia ranks 105th in the world. Mongolia plans to improve its position by twofold to rank among the first 50 countries in the category within 3 years. Within the framework of this objective, a project to establish a vocational training institute for tourism by grant aid of South Korea is underway in Ulaanbaatar. The institute will provide all the necessary human resources, including drivers and chefs for the industry in a standard training program and ensure a single and nationwide service standard.
To meet short-term goals, general training for 15 thousand employees of the service industry has been organized with the cooperation of professional organizations in the first quarter of 2019. A cost of the training, 1 billion MNT was borne by the state budget. Besides, the standard training program and workplace rules for service workers were approved. It shall be noted that these official documents will be bettered next year. Moreover, an initiative aimed at bringing a service training program to international standard and formulating a master plan for training has been implemented by the experts from Sejong University by 500 million USD financing from South Korea, it was informed by the Ministry of Environment and Tourism.
Progress made in air transportation
One of the two main sectors that support the competitiveness of the smokeless industry globally is air transportation. The number of air travelers would double in 2037 compared to 2018 to reach 8.2 billion, according to the International Air Transport Association. Hence, experts have started to call for countries to liberalize their air transportation sector, improve the infrastructure to minimize travel costs and increase its benefit. As of 2018, air passenger traffic of Mongolia reached one million, that is to say, 500 thousand persons. Of these, 262 thousand travelers were highly profitable tourists that came from Beijing and Seoul gateways. About 60 percent of international air passenger flow comes from Seoul. Therefore, air transportation capacity should be expanded in order to attract a large number of tourists. The state policy on air transportation which a restricted number of airlines operating in a country was valid through 2018. Fortunately, the restriction was revoked this year and air transportation capacity is expected to increase by 34 percent. This year, Mongolia`s air transportation sector has evidenced a many important developments, including both Asiana Airlines and Aeroflot, introduced large passenger airplanes to their services, MIAT has added 2-3 new flight directions and increased the number of its weekly flights, a night flight to Beijing was started and Eznis Airways resumed its cheap price Ulaanbaatar to Hong Kong route flight. Next year`s opening of a New Ulaanbaatar International Airport or the Khushig Valley airport will certainly expand Mongolia`s air transportation capacity. On top of this, airports at six provinces should obtain an international status which would enable passengers to enjoy cheap flights.
A need to ease visa rules to facilitate tourism
According to some think-tanks, in order to obtain a larger piece of the regional tourism boom, it is important for Mongolia to ease its visa restrictions. They estimate that around 80 percent of tourists will come from the region. Among the top 10 countries that will successfully benefit from the tourist boom by 2026 are India, Brunei, Thailand, China, Myanmar, and Vietnam, it was highlighted by Euromonitor International.
Mongolia, though, holds two different visa rules towards its two neighbors. Whereas Russian citizens are granted visa-free access, Chinese visitors are required a visa. As a matter of fact, such an uneven policy has only limited money flow from China. In 2018, Mongolia received 168 thousand Chinese tourists, yet, more than 1.4 million Mongolians visited its southern neighbor. Here, it should be noted that the average spending of Mongolian tourists is around 1000 USD. If you estimate other expenses of Mongolian tourists to be 500 USD, excluding travel expenses, then it might be understood that Mongolia loses some 700 million USD in tourism exports. It is no surprise that Mongolia ranks 7th in the number of tourists visiting China. While other countries are competing with each other to lure Chinese tourists, Mongolia, adjoining the country, has limited its huge potential by citing national security.
The Ministry promotes a policy involves granting a visa exemption to Chinese nationals visiting Mongolia for 24-48 hours on accredited tour operator companies that arrange specialized travels near the border.
A forecast by a number of specialist organizations says that a number of Chinese tourists will reach 260 million by 2030. In order to boost the tourism industry and increase its revenue, Mongolia will need to attract only a half million of these tourists. The Ministry of Environment and Tourism promotes a policy aimed to develop border tourism in a sophisticated standard in order to blend domestic anxiety and pleasant external condition. This policy involves granting a visa exemption to Chinese nationals visiting Mongolia for 24-48 hours on accredited tour operator companies that arrange specialized travels near the border. In 2016, the Ministry of Foreign Affairs stopped a practice that allowed Chinese tourists to visit areas near the Mongolian border on the blue permit. Yet there are many companies that made a considerable amount of investment to implement border tourism projects. Hence, for Mongolia`s tourism industry to make a big leap forward, we must activate those "frozen" investments and create opportunities for ethnic Mongolians to travel to Mongolia. Without proper solutions to these problems, an opportunity to increase the number of tourists arriving through land border checkpoints is slim.
Rendezvous for megaprojects is border checkpoints
Within the framework of developing border tourism and cross-border tourism and enhancing the capacity of border checkpoints, which are often discussed issues at the meetings between tourism ministers from Mongolia, China, and Russia, the three mega projects, namely Silk Road, Tea Road, and Greater Tumen Initiative are being implemented. Greater Tumen Initiative Board Meeting was held in Ulaanbaatar, and representatives from the World Tourism Organization (UNWTO) were invited. At the meeting, it was agreed to sign a memorandum of understanding on attracting a tourist flow to North-East Asia and implementing various tourism projects.
These mega projects have contributed to the growth of international auto rallies and private car trips in the region and such activities have started to pose certain challenges, including a need to increase the capacity of border checkpoints and delivery of basic information and services to the tourists.
This year, the Ministry of Environment and Tourism has supplied 23 land border checkpoints with electronic guides which facilitated the distribution of basic tourism information as well as timely warnings about wildfires near the border. Moreover, a special passport to Mongolia was created in order to provide tourists with detailed information on various topics such as how to use what3wors application, festivals, attractions, and emergency numbers.