Jonathan Cain: We take a customer's concepts and turn them into a working reality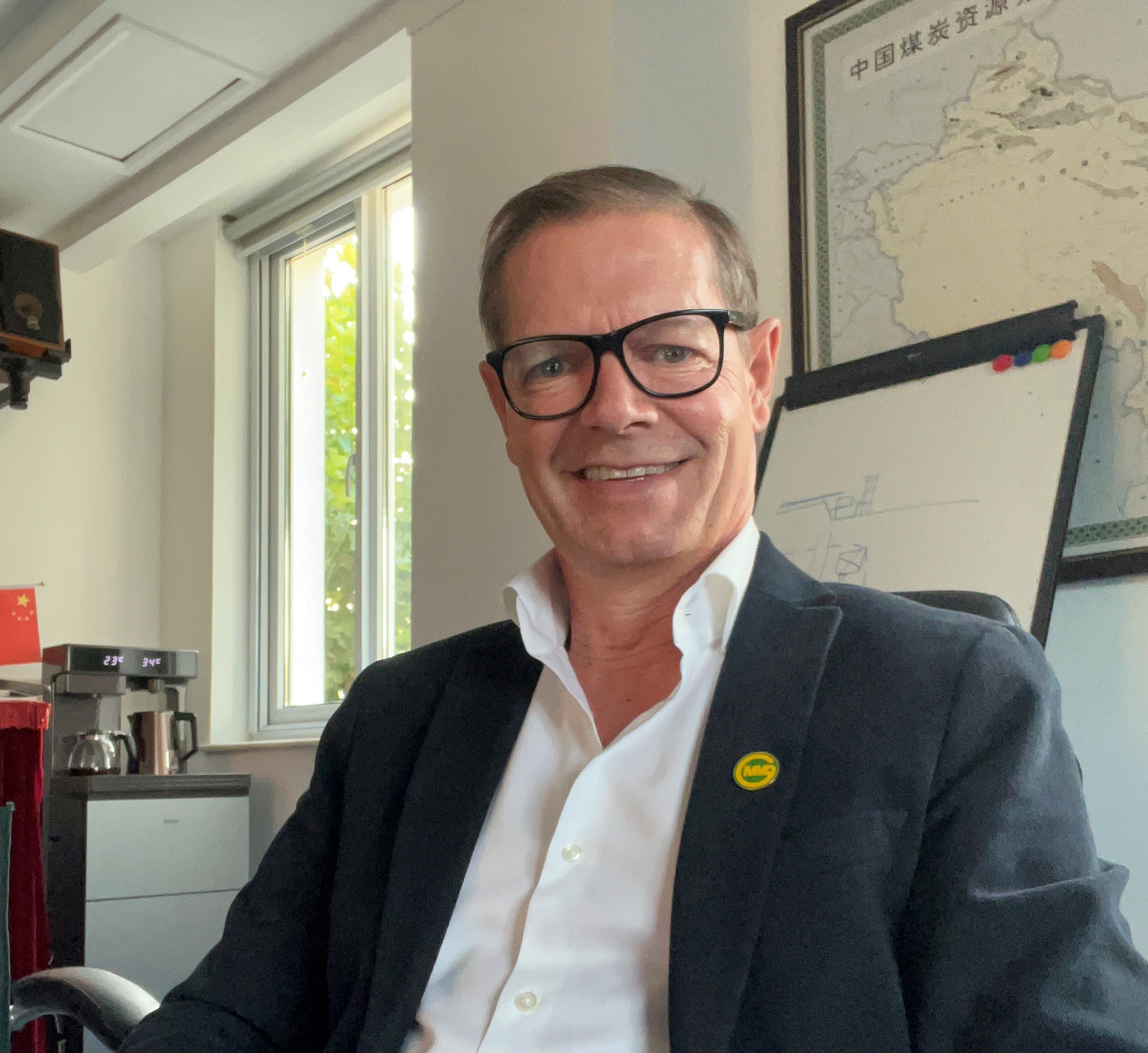 At the Mining Week of 2023, one of the sponsors was Mining Machinery Developments (MMD), a company that was established 45 years ago in Great Britain. The company was set up to design and produce mining solutions for the underground UK coal industry, initially designing and manufacturing inline breakers. Today it has become an innovative global engineering group, with nearly 600 employees, dedicated to enhancing customer productivity and sustainability. MMD has 6 manufacturing plants, 18 satellite offices and a number of trained agents supporting sales and servicing across the globe.
At the event, we interviewed Jonathan Cain, the Managing Director of MMD Green Mining Solutions (Mauritius) Ltd, who oversees the company's management of Mongolian clients.
-What kind of advantages can your equipment offer to the Mongolian mining companies?
-First of all, we employ a method of crushing material, which is completely different from our competitors. Our Sizers use an attrition method where we exploit the weaknesses in the material by using bending, tension, and shear forces. This method of breaking can be up to ten times more efficient than competitor's machines, providing a significant saving on the electrical power consumption for customers.
Also, our crushing equipment is much smaller than our competitors, which is one of the reasons we have a much smaller carbon footprint when it comes to manufacturing our machines. That's why we have adopted the Green Mining Solutions slogan.
We also spend a lot of time trying to improve the drive motors on our gearboxes, and our drivetrains, to make them as efficient as possible. In some installations in Canada, we use SR technology, (Switched Reluctance motors), which uses a lot less power. It doesn't suit every site, however in sites where there's a low or a lack of mains power, these units can be very useful.
We have developed a wide range of solutions for processing materials in both greenfield and brownfield sites, from simple installations such as individual Feeders and Sizers to complete turnkey Sizer stations. Each solution is tailored to the specifications and needs of the customer and project. However, we also have the capability and expertise to provide completely bespoke design solutions to a client's specific requirements.
The solutions we provide are customer driven and we are always looking to develop new material processing methods to assist with our customer's efficiency targets. Some of our most recent technologies such as Bulk Ore Sorting and SurgeLoader™ focus on streamlining in-pit mining processes, delivering more productivity, reducing energy usage, and improving mine safety.
In short, what we offer is 40 plus years of experience and innovation. When you invest in our products, you don't just purchase a product that is driven by high quality you get access to 40 plus years of global experience, offering cost-effective solutions over the LOM (Life-Of-Mine). Our wear parts, for example, are easily accessible and very quick to change, minimizing downtime. Our global support network provides round-the-clock support and expertise. So, we offer more than just quality equipment, we offer a long-term strategic partnership with our customers.
-How many clients do you have in Mongolia?
-Mongolia is an emerging market for MMD and currently have one client in Mongolia, we are successfully cooperating with Khan Altai Resource LLC on their latest project. We are supplying a Semi-Mobile Sizer Station and aim to commission it early next year.
-What do you think about Mongolia`s mining sector?
-After conducting a lot of research and groundwork into the Mongolian Mining sector, we think there is a lot of potential here. Mongolia is a mineral-rich country, which provides lots of opportunities where our equipment can make a difference.
The MMD Group allocated Mongolia as a sales territory to the Mauritius office, where I work, about three years ago with the responsibility to provide our comprehensive range of products, services and support to Mongolian mines, quarries and recycling operations.
-Mongolia is rich in coal resources. Do you plan to work with coal mining companies?
-Mongolia has a massive coal industry and most of it is exported to China. We have a vast knowledge base of over 45 years working within the coal industry in various parts of the world. With this extensive knowledge, we can provide our advice on the Sizer's suitability, but what you also have to consider is that the coal market is very, very competitive nowadays. There are many different machines in the marketplace including cheap low-quality machines. However, our equipment is premium quality, and there is a price tag that comes with that. Our reputation is built on providing tailored, reliable machines with minimal maintenance and first-class support that delivers good value to the customer. We have machines operating on many sites that have been continuously working for over 30 years.
-What kind of challenges have you encountered so far in Mongolia?
-I think our biggest challenge has been the logistics, we have a lot to think about to make sure that we have all the equipment on-site at the correct time. Just one missing bolt, can be a problem because you're a thousand kilometers away from the nearest city or town. We have designers in the UK and Project Managers in Mauritius, who are going through the project BOM and scope of supply with a fine-tooth comb to make sure that everything arrives on-site at the right time to ensure the installation and commissioning goes to plan. So there needs to be a lot of planning. We are highly experienced in providing and installing in extreme weather conditions that we see in Mongolia, so we don't see that as such a challenge.
-What can you say about the business, investment, and legal environment of Mongolia?
-I think it's a new challenge for us working in Mongolia, we have an agent here who helps us along with the British Embassy. Our core belief is we need to understand the local culture and how business is done here. We have found the Mongolian people very friendly and it seems a good place to work and do business with a robust legal framework.
-In what types of mines do your machines work globally?
-Globally, we have more than 3500 working machines. For example, we have 700 units currently working in China. Our machines operate on many materials around the world from wet and sticky, to hard dry, and abrasive materials up to 300 MPa.
We have machines operating on coal, limestone, gold, and zinc, just to mention a few, so if you have a material, we can probably crush it.
After the company started 45 years ago in the underground coal business in the UK, we developed the Twin Shaft Sizer. This was actually patented by our founder, Mr. Alan Potts, who's no longer with us. He revolutionized the coal industry in the UK for the speed it could process material, but then much of the coal industry in the UK closed down. It forced the company to diversify into other industries and go overseas, which we've been very successful in doing.
-What can you say about the differences between working in an African country and working in an Asian country? Have you felt any difference working in two different countries?
-Obviously, we always try our best to appreciate the country and its culture we're in. But for us, a customer is a customer, and we apply the same quality, and high standards and care to our work, wherever the customer is located.
We always work with our customers very closely to give them the best solution and advice that we can, based on our 45 years of experience. We take a customer's concept and turn it into a working reality. That's our aim.
Please feel free to browse through our website www.mmdsizers.com and check out more information about our range of services and view some of our previous projects.