S.Mungunchimeg: Development of a financing strategy to achieve the sustainable development goals is underway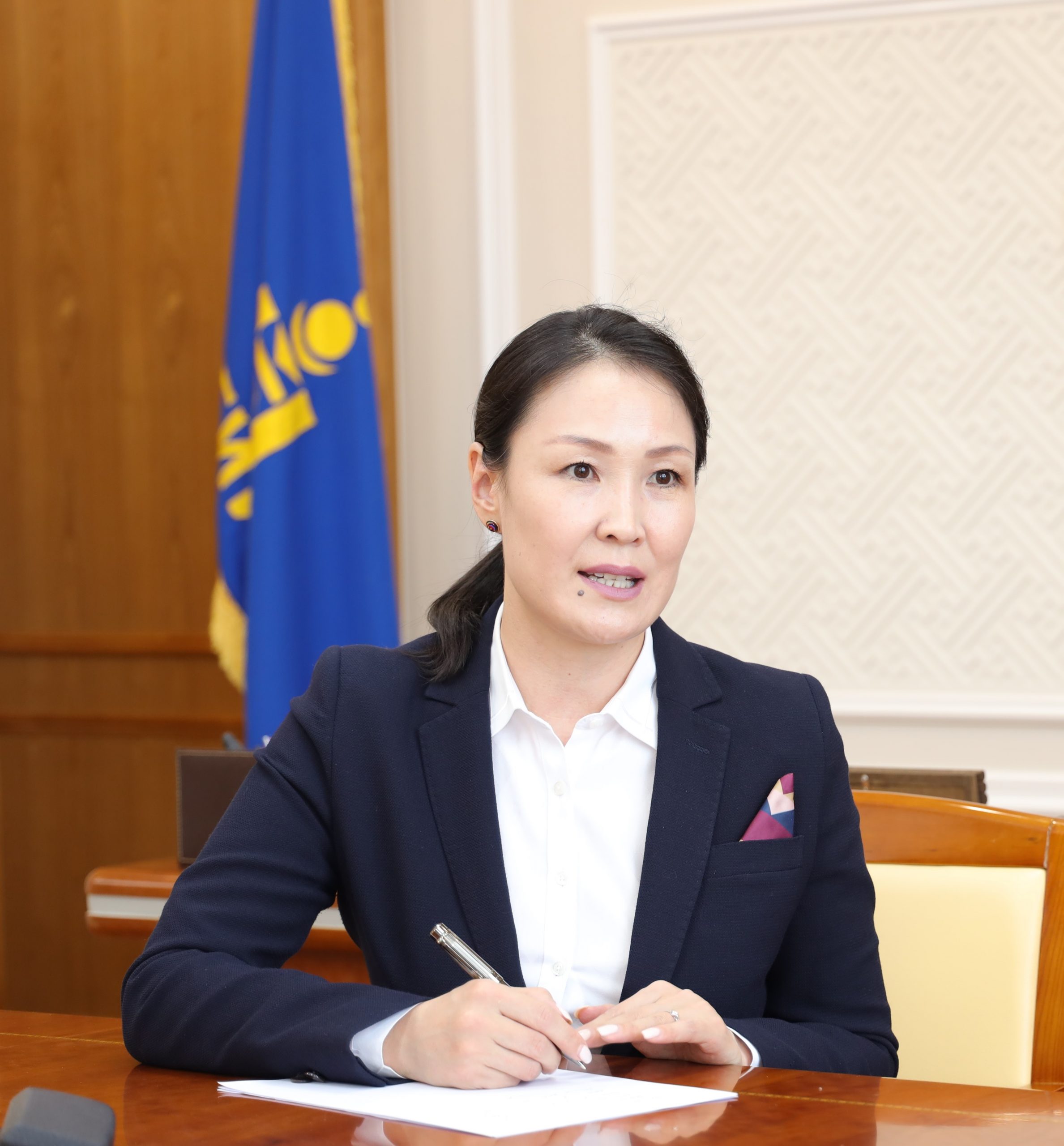 Mongolian Economy Magazine spoke with the Vice Minister of Finance, S. Mungunchimeg about financing for Sustainable Development Goals.
-In recent years, Mongolia has been discussing financing for the Sustainable Development Goals (SDGs) at great length. The attendants of the Mongolian Sustainable Finance Forum were addressing the topic from various perspectives. In fact, during the forum, you introduced a strategy for SDG financing. Could you tell our readers a bit more about the strategy paper on SDG financing?
-After the approval of the Law on Development Policy, Planning and Management in 2020, Mongolia experienced substantial progress in its development policy planning. The above law incorporates over 400 policy documents that were in place at that time. Mongolia approved its long-term policy document Vision-2050 reflecting the SDGs.
To implement the development policies initiated by the Government of Mongolia and achieve the SDGs, we need to secure funding and manage the financing optimally and properly. In other words, to secure the necessary financing to achieve Mongolia's sustainable development, we have developed our national financing strategy.
Under this  strategy, we need to accelerate the budget and financing reforms, test and introduce various new financial mechanisms and tools to increase the external and internal funding and distribute existing resources more efficiently. For instance, the strategy contains a number of progressive methods and policy reforms aimed at mobilizing the financing to the public-private partnership projects for development goals. By doing so, the funding sources can be effectively increased. It is important to note that the strategy which includes all the above-mentioned measures was developed in cooperation with all the ministries, the Bank of Mongolia, Financial Regulatory Commission, international financial institutions and the United Nations (UN).
In the past, budgeting, investment, strategy and other financial sector policies were developed and adopted independently but now all financial policies have become part of an integrated  National Financing Strategy. Following the recommendation of the UN, Mongolia has become one of 70 countries that are laying out its Integrated National Financing Frameworks (INFF). 
Between 2000 and 2015, to implement the Millennium Development Goals, most countries had to rely on their government budget, foreign loans and aid. However, that  has all changed now. To elaborate further, as advised by the UN, Mongolia is adopting an integrated financing system and strategy to mobilize the public, private and financial resources for the implementation of SDGs that are intended to be achieved by 2030.
-To successfully build an integrated financing system which you mentioned above, what should be our main focus?
-The INFF for sustainable development is not a new concept. It is merely about improving and strengthening the coordination between budgeting, financing, policy planning, the financial sector, monitoring, review, evaluation and reporting processes. It is also about linking financing with SDGs and policies. There are a number of important factors crucial to  the successful creation of a financing system that is aligned with sustainable development.
To begin with, the leadership, tenacity and participation of decision-makers and regulatory bodies are extremely important. Secondly, the financing strategy for improving the alignment of financial resources with the development goals and for creating tools for financing large-scale projects is vital. Thirdly, monitoring the implementation of this financing strategy and review mechanisms need to be carried out by government agencies multilaterally with the presence of external monitoring bodies.
Monitoring the implementation of INFF in a unified way will enable opportunities for evaluating investment flow and policy support as well as identifying which strategies are working and which are not based on evidence; and providing support in policymaking. Furthermore, the transparency of implementation outcomes is expected to play an important role in placing greater responsibility on all stakeholders and in promoting trust and cooperation with our partner organizations. In short, strengthening monitoring and review systems and clarifying the responsibilities of the key stakeholders is fundamental to the successful implementation of INFF.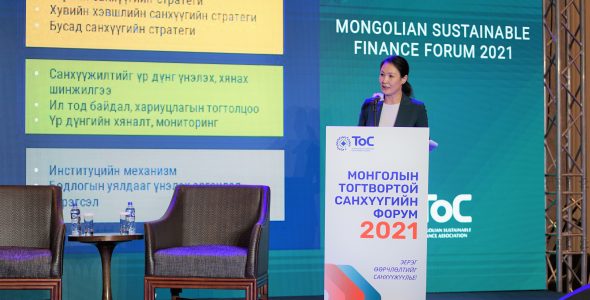 -You mentioned that the role of the private sector is significant in terms of financing for sustainable development. Keeping that in mind, how much importance does the private sector give to the topic?
-I would like to emphasize the fact that the private sector is the leader in that front. Especially, banks and financial institutions are taking leadership roles in financing sustainable development. For example, in 2020, commercial banks introduced a Green Taxonomy, a classification system for environmentally friendly economic activities. As a result, banks began taking into account the environmental factors in their lending decisions by reviewing whether a given business entity carries out environmentally-friendly activities, creates new jobs and ensures workplace safety or not. In other words, banks and financial institutions are encouraging and helping their clients to understand that everyone's contribution is needed to achieve SDGs.
Around the world, the key sector that is driving green development is indeed the banks and financial institutions. I am confident that Mongolia can keep up with this trend. Unfortunately, at the moment, green loans constitute about 2-5 percent of the total loan portfolio which is a rather  small percentage. But, it will keep on growing. Also, businesses are using Green Taxonomy as their fundamental document in issuing green bonds, identifying environmentally friendly projects for green loans and measuring the outcomes of their projects. 
It's important to point out that commercial banks are actively working towards securing long-term soft financing sources for sustainable finance. To contribute to addressing climate change and environmental challenges, our leading commercial banks took initiatives and secured loan facilities from the International Bank for Economic Co-operation and Global Climate Partnership Fund.
In 2017, the Mongolian Stock Exchange joined the UN's Sustainable Stock Exchanges (SSE) initiative. Within that framework, they are working on introducing Environmental, Social and Corporate Governance (ESG) reporting standards to the stock market and public companies listed on the stock exchange.
In the future, we plan to enhance the participation of the private sector and carry out several reforms to align their activities with SDGs. Hence, the Ministry of Finance is about to submit the draft of the Law on Public-Private Partnerships to Parliament.
-How much is the government's budget  aligned with the SDGs?
-One of the main goals of budgeting reforms, which started in 2018, was to align budgeting with SDGs and introduce results-oriented budgeting. As part of that, reform of health care financing took place in 2021. From this year, we are working on aligning financing outcomes, quality and performance in education, culture, physical activity and child protection with SDGs.
In addition to that, we are experimenting with budget planning that is designed to ensure gender equality and gender responsiveness. The main goal is to ensure that everyone is benefiting equally from the government services regardless of their gender. Moreover, from  last year, we began to reflect SDGs in receiving financing, loans and aid at a government level. 
-What types of new opportunities are opening up for the Ministry of Finance by introducing the Integrated National Financing Framework in Mongolia?
-In short, it will reduce the pressure on the budget, especially the reliance on the government budget in achieving the SDGs, and enhance the role of other stakeholders and the private sector. I believe that it will also create a new market and new opportunities for our private sector. Mobilizing private sector resources towards the projects that have been financed by the government will significantly reduce the pressure on the government budget, contribute to paying off external debt, create budget stability and accelerate the achievement of development goals. In other words, it could create opportunities for faster development.
The roadmap to this is incorporated in the financing strategy. Certainly, it will require long-term reforms in various sectors of our economy. For instance, to align budgeting with SDGs and improve efficiency, we are testing the previously mentioned new approach in budget planning.
On top of that, the strategy includes reforms for state-owned enterprises this year. At the national level, there are over 400 local and state-owned enterprises which are valued at over 40 trillion MNT. The approved budget for this year is 18 trillion MNT which shows how much the state-owned enterprises  contribute to advancing SDGs. Particularly, state-owned financial institutions could play an important part in providing financing for sustainable development. The strategy includes numerous reforms such as the integration of sustainable financing principles into the operations of the Development Bank and directing operations of the State Bank towards supporting SMEs.