Tapan Mishra: We want to put more emphasis on reducing poverty and inequality in Mongolia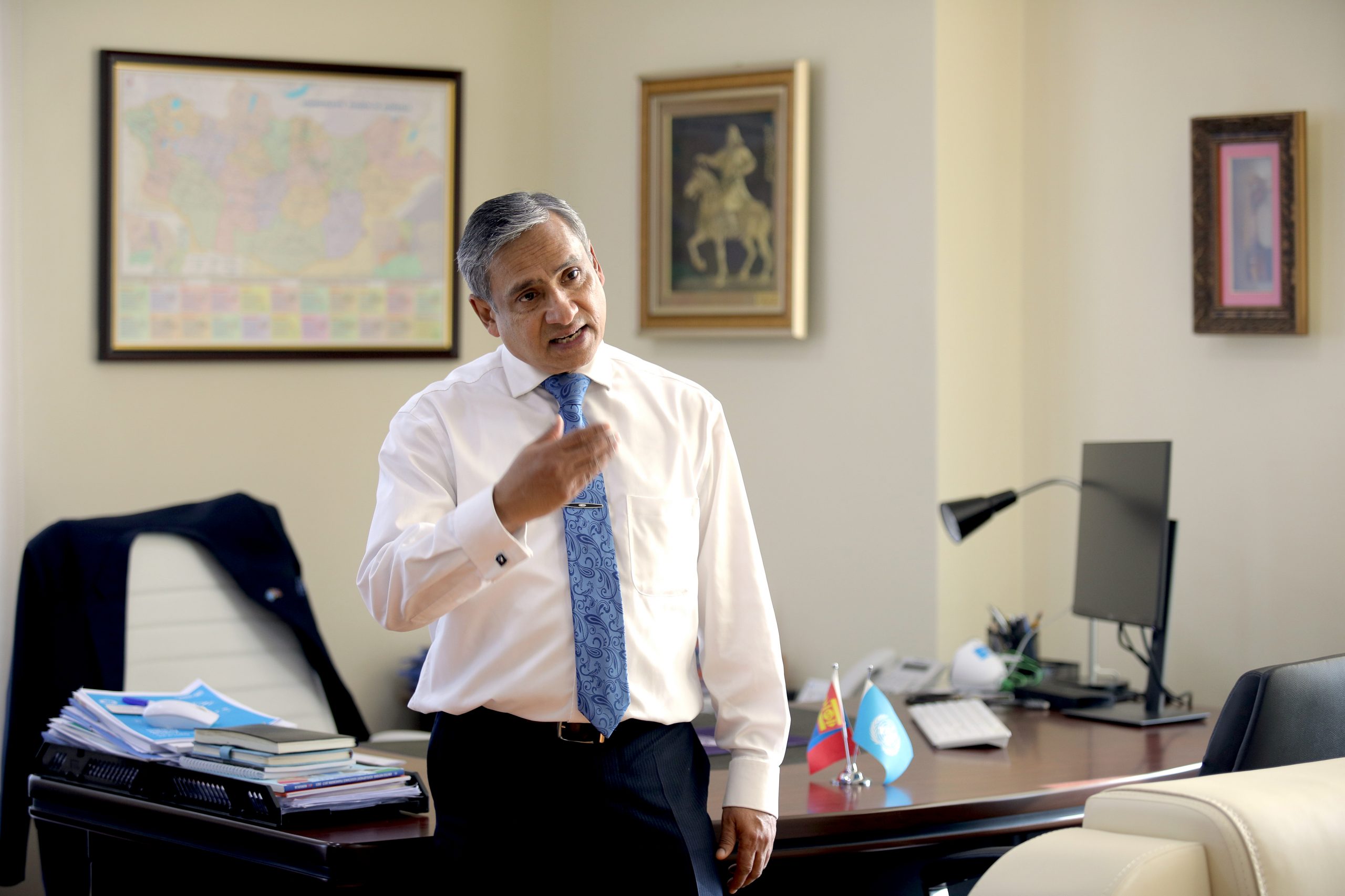 Mongolian Economy magazine spoke with UN Resident Coordinator Tapan Mishra about ongoing UN projects, UN's COVID-19 related responses and upcoming 60th anniversary of Mongolia's accession to the UN. 
-Could you introduce yourself to our readers? 
-On behalf of the UN, I would like to express my gratitude to Mongolian Economy magazine for reaching us on the eve of the 60th anniversary of Mongolia's accession to the UN. My name is Tapan Mishra. I've been working in Mongolia as UN Resident Coordinator (Hereafter UN RC) since September 2019.
Prior to joining the UN, I worked both in private and public sectors in India. I started off my career as a human resource professional in the Oil Industry with Bharat Petroleum Corp. Ltd. I began with Industrial Relations in the Capital, New Delhi and then became the All India Training Manager in Mumbai and finally an Internal Coach for Organizational Learning and Change Management. Also, I served India's leading IT Company Infosys at their Leadership Institute as a Faculty Member and then at Grow Talent Co. Ltd in Gurgaon as Vice President for Consulting Services. I was also active in academia through teaching HR Management at leading institutions in India such as NMIMS in Mumbai and later at Columbia University, School for International and Public Affairs (SIPA), New York, the United States.
As I had a passion to work for development, I joined the UN system in 2003 as the UNDP Learning Advisor and Deputy Chief of the Learning Resources Centre (LRC) in the Office of Human Resources. Then became the Director and Chief of LRC from 2007 to 2013. Thereafter, I served on numerous assignments supporting Country Offices as well as Offices in Headquarters until 2015. Prior to coming to Mongolia, I served as UN RC in the Democratic People's Republic of Korea (DPR Korea) from 2015 to 2019.
I consider myself very fortunate because I got a wonderful career opportunity to serve people around the world. Moreover, I am very glad that I am working in Mongolia, a wonderful country that has a tremendous potential for inclusive and sustainable development.
-Was it difficult to adapt to Mongolia? 
-Not at all. Mongolia was my dream country that I chose to work in. In 2017, due to sanctions on DPR Korea as a UN RC I had to explore new banking channels for the country. Thus, I visited Mongolia to meet up with banks and the Government of Mongolia. I had the pleasure of spending one week in Mongolia and had a chance to stay in a ger with herder family at Terelj. I really fell in love with Mongolian culture, people and nature. Since then, I began listening to Mongolian news whenever I had a chance and picked up some words. When I had the opportunity to apply for my next assignment as UN RC, my first choice was Mongolia.
That is why I feel happy working in Mongolia and I am looking forward to contributing to its development to the best of my abilities.
I think to understand the culture you need to understand the language. So, if my work allows, I would like to learn the Mongolian language more extensively.
-Mr. Mishra, you served as UN Resident Coordinator in DPR Korea from 2015 to 2019. It must have been challenging to work over 4 years in a very uneasy geopolitical context. What difficulties did you face during your appointment? 
-It was indeed a very challenging geopolitical context, but I was mentally prepared to do my best.  As a matter of fact, I was the only UN RC candidate who was ever interviewed by the UN Secretary-General Ban Ki-moon for final clearance of my selection in the role. I took up my assignment in DPR Korea in 2015 when the geopolitical situation was quite tense. In 2016 and 2017, the UN Security Council imposed new sanctions on North Korea after Pyongyang carried out its largest nuclear test and missile launches. In total, the country received six sanctions in two years making it the most sanctioned country in the world. As a result, all the economic and development activities were halted. It was extremely challenging as we were not allowed to carry any development projects. Even then, we did our very best and, I am pleased to say that the UN sanction committees granted us required exemptions to sanctions that enabled UN's humanitarian support to North Korea.
Secondly the country had many humanitarian crises including natural disasters such as droughts and floods. That led to challenges in health, food security, nutrition as well as water and sanitation. Fortunately, our team managed to provide a significant amount of humanitarian support and even get high level UN officials including several Under Secretary-Generals to visit the country during my term as UN RC.
The third major challenge was security because of the geopolitical situation, sanctions, and political engagement between US and North Korean leaders. We were almost at the verge of a possible nuclear confrontation. My job as UN RC was to contribute towards possibly resolving the tensions between US and North Korea, and more importantly how to protect the security and safety of all UN personnel and their families stationed in DPR Korea. I had sleepless nights thinking how to plan and prepare in the event of such emergencies.
Despite all the challenges, we kept putting all our best efforts in supporting and serving the needs of the vulnerable people of DPR Korea. Therefore, I would proudly say that our team achieved highly valuable results, including signing the UN Strategic Framework (UNSF) 2017-2021 and establishing a very strong and trustful relationship with the Government of DPR Korea as well as all other Stakeholders.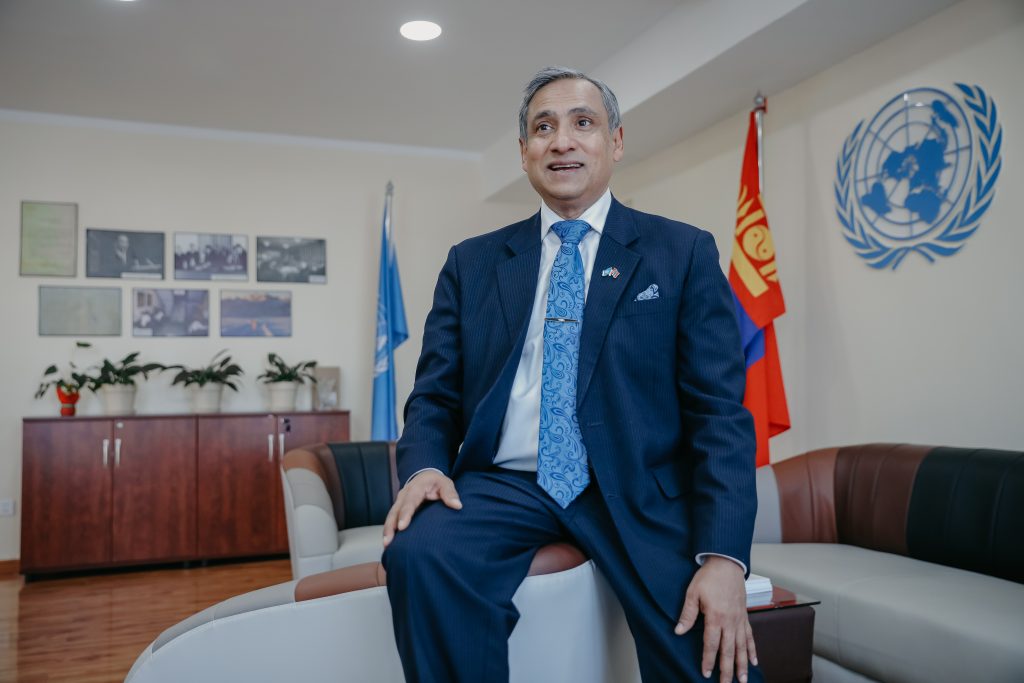 -What type of challenges have you faced in implementing UN projects in Mongolia?
-I wouldn't say that there are major challenges per se because Mongolia has enabling conditions for inclusive and sustainable development. However, I would certainly emphasize that the COVID-19 has been the biggest challenge so far as we've not been unable to work as we normally do. Remote working limits the scope of our operations to a certain extent. Furthermore, the UN agencies in Mongolia had to shift their focus to COVID-19 related responses instead of focusing on implementation of their larger usual development projects. Consequently, the UN and the Government of Mongolia had to extend the UN Sustainable Development Cooperation Framework (UNDAF) 2017-2021 for another year. We can move to the next cycle of the UNDAF, the UN Sustainable Development Cooperation Framework (UNSDCF) 2023-2027, only after addressing the COVID-19 situation. We hope that in 2022 the COVID-19 situation will improve, and we'll be able to get a better view of the future we want to create for Mongolia.
-Do you plan to add a new strategic priority in the UNSDCF 2023-2027? 
-It is early to talk about the key strategic priorities of the UNSDCF 2023-2027. First of all, the UNSDCF is co-designed and co-signed by the UN and the Government. Secondly, at the moment, we're in the process of preparing our comprehensive Common Country Analysis (UN CCA) and evaluation of the previous UNDAF. Based on the above, we'll determine the priorities of UNSDCF with the Government of Mongolia and reflect the national priorities envisaged in long-term development goals Vision 2050 by October or November this year.
Having said that, the core UN principles will be incorporated in the framework such as (i) reaching the SDGs in an integrated manner with a commitment to leave no one behind, (ii) addressing all inequalities (iii) accelerating socio-economic development, (iv) providing assistance in creation of inclusive and diversified economy by leveraging youth and digital technologies, and (v) putting focus on climate change, disaster management, green economy, and renewable energy.
The UNSDCF 2023-2027 will determine and reflect the UN development system's contributions in the country. We plan to sign the UNSDCF 2023-2027 with the Government of Mongolia in April 2022 after rounds of discussions with all stakeholders.
-How the UN ensures inclusive and sustainable development of all citizens of Mongolia, leaving no one behind, especially the most vulnerable populations? 
-That is the question that keeps me awake thinking about it most nights. Our core mission is to ensure inclusive and sustainable development of all citizens of Mongolia, leaving no one behind (LNOB) especially the most vulnerable populations including elderly, disabled, herders, children, pregnant women, and migrants. Now within the scope of CCA, we're conducting a special initiative called LNOB Analysis with all partners and UN agencies. To leave no one behind, we need data and analysis to be able to identify the root causes and design evidence-based support for the most vulnerable. We want to contribute to inclusive and sustainable development that leaves no one behind.
-According to the World Bank, the COVID-related school closures are creating learning inequality which is further amplified by inequalities in the quality of parental support and home learning environments. Do the UN agencies work in mitigating the effects of school closures in Mongolia?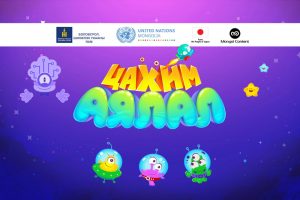 -That is a very good and valid question. In fact, we're worried about the children's education around the world including Mongolia. Following the school closures, classes have been broadcasted on the national TV channels. However, according to a recent study supported by the UNICEF, five percent of the children and parents participated in the survey had no TV or electronic device to watch the lessons. Thus, UNICEF, UNFPA and UNESCO closely worked with the Ministry of Education and Sciences on an e-learning platform to enable better access to education (econtent.edu.mn). The UN agencies helped to create high-quality e-learning contents and make remote learning accessible to children with disabilities. On top of that, we're also working with the Ministry of Education and Science in ensuring the safety of schools and in vaccinating children aged 12 and above. We'll also keep working on supporting the government on alternative learning platforms so Mongolia will be better equipped to handle a similar situation in the future.
-In 2020 and 2021, what has the UN done in terms of supporting the Government of Mongolia in response to COVID-19?
-The UN provided support to Mongolia in health, humanitarian and socio-economic responses. To begin with, one of the jobs of UN RC is to coordinate with the Government and other partner organizations so that we are not duplicating efforts and do not create any gaps in our response. Thus, the establishment of Integrated Coordination Group (ICG) was initiated to coordinate COVID-19 related efforts of multiple stakeholders across humanitarian, health and socio-economic dimensions to prevent the spread of COVID-19 in Mongolia. Furthermore, we've supported WHO's assistance to Mongolia through the Joint UN Fund. From the beginning of the pandemic, WHO, UN agencies and our partners organizations have been holding regular Health Cluster Partner Meetings along with the Minister of Health to prioritize the response to COVID-19.
Under the UN framework for the immediate socio-economic response to COVID-19 we mobilized 13.2 million USD. The framework consists of five pillars: (i) health, (ii) protecting people, (iii) economic response and recovery, (iv) macroeconomic response and multilateral collaboration, and (v) social cohesion and community resilience. In total, the UN mobilized 27.4 million USD for COVID-19 response in Mongolia.
The UN has also provided support in vaccinating adults in Mongolia. As of today, Mongolia has received 239,160 doses of vaccines under the COVAX facility. Recently, the Government of Japan signed an agreement with UNICEF to fund the procurement of 2.5 million doses of Pfizer vaccines. Moreover, UNICEF in partnership with the Government of Mongolia and the Ministry of Health has started the construction work of the new vaccines central storage building at the National Center for Communicable Diseases. We've also helped to strengthen and expand PCR testing in many locations including Selenge, Umnugovi, Dornogovi and the capital city with UNFPA's support. Moreover, owing to the project to strengthen laboratory capacity, the lab testing capacity increased 10 folds. UNICEF and WHO jointly supported health institutions to address misinformation and disinformation in the age of COVID-19.
-How many stranded Mongolians returned home through UN support?
-In response to the Government of Mongolia's request to help stranded Mongolians due to COVID-19-related border closures, IOM missions in Mongolia facilitated the movement. Around 860 Mongolian nationals returned home through IOM's Assisted Voluntary Return and Reintegration program.
During the national lockdown, more than 68,000 internally stranded Mongolians returned to their homes in other soums and provinces through UN support. We're glad we were able to help Mongolians to safely return to their country and home.
-SMEs account for the majority of the employment in Mongolia. At the same time, they are disproportionately affected by pandemic-related shocks. What actions have been taken to support SMEs amid the pandemic? 
-You're absolutely right. During the pandemic, SMEs have suffered the most. The UN and the Deputy Prime Minister's Office jointly launched a comprehensive information platform (www.covidmongolia.mn) that offers real-time data on the COVID-19 situation and socio-economic impact on businesses.
In terms of support to SMEs, UN agencies have been supporting herders, farmers and light agricultural industries by developing value chains, improving productivity of livestock and crop production. For instance, the UN implemented a project on promoting sustainable production of cashmere, textiles, wool, leather, dairy and vegetables. We believe that it has contributed to Mongolia's economic diversification and sustainable development. As a result, more than 2200 jobs were created in meat and dairy industries in 40 soums.
Mongolia exports about 80 percent of its animal products including meat, wool and cashmere as a raw material. Thus, the UN has been looking for opportunities and possibilities of processing raw materials and exporting it as value added products to other countries.
-The UN Mongolia held a virtual meeting with the CITA (Communications and Information Technology Authority) to drive the digital transformation agenda in April 2021. How will the UN support Mongolia's digital transformation? 
-Soon after I joined as UN RC Mongolia in September 2019, the Government of Mongolia was partnering with Estonia to move towards digital transformation and the creation of e-Mongolia. At that time, the UN Secretary-General devised a roadmap for digital cooperation which has eight pillars. So, upon discussion with CITA, UN's IT lead Organization International Telecommunication Union (ITU) and the UN Office for Envoy on Technology along with the UN Country Team in Mongolia, we've created a task force to support digitalization in Mongolia. We've identified 5 areas of support needed for Mongolia in its transition to becoming e-Mongolia. The first area is digital inclusion, making sure that all Mongolians have access to internet. Second one is universal connectivity and the development of infrastructure. The third area is e-governance which entails creation of enabling policies, green economy and e-agriculture. The fourth one is digital human rights because regulatory frameworks and legislation on the use of digital technologies should have human rights at their core. The fifth area is leveraging innovation in order to make sure that we continue innovating and creating new frontier technologies.
-How can we, as individuals and businesses, get involved in Take Action Towards the Sustainable Development Goals? 
-The SDGs are the blueprint to achieve a better and more sustainable future for all. That means we need everyone's involvement in achieving the goals. Hence, I think that SDGs should be simplified so everybody can contribute in their own way. We tried to bring not only the Government agencies but also school children and university students together to see how we can contribute to SDGs, and how we can reduce energy consumption through lifestyle change and consumption of food. There are lots of good examples of how SDGs are supported by the private sector. Companies contribute to inclusive and sustainable development as part of their corporate social responsibility. More you invest in inclusive and sustainable development the purchasing power of the population will increase which will further accelerate the economic growth and your business income. All the SDGs are interconnected goals which means one goal does not undermine another. I would like to urge everyone to take action towards the SDGs.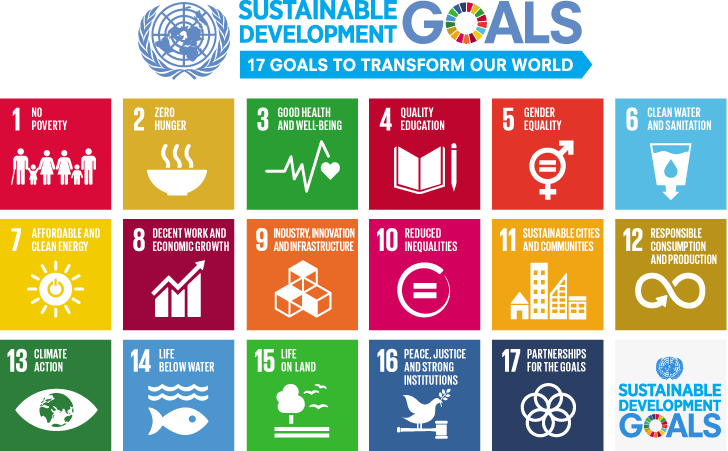 -Which SDGs have made the least progress? What needs to be done to accelerate the progress? 
-If you look at the Dashboard, the goal 14 which is "Life Below Water" does not apply to Mongolia much. That is the goal we've made the least progress. Furthermore, I would say that we've not achieved the desired outcome in terms of climate change, clean water and sanitation. On the other hand, we've made significant progress in areas such as good health and well-being, gender equality, education equality, poverty, and hunger. Each year we publish a Sustainable Development Goals Report. Despite significant efforts put into reducing poverty, it still remains around 28 percent. The pandemic might push more people into poverty. Poverty is an outcome of many factors including health, education, food, gender and equality. As poverty is one of the key indicators of how the country is doing, we want to put more emphasis on reducing poverty and inequalities in Mongolia.
-The National Food Systems Dialogue were held in Mongolia on July 8. What are the specific goals and actions you want to see from the dialogue in transforming the national food system? 
-Mongolia has indeed been strongly engaging in the Global Summit Dialogues. Together with the Government, we had organized six regional dialogues nationwide, as well as independent dialogues with representatives from the private sector, civil society organizations and youth. The National Food Systems Dialogue, held on July 8 was a grand-finale with the leadership of the Prime Minister of Mongolia and participation of all key stakeholders. The FAO survey estimated that 72 percent of the households had to compromise on food, 47 percent were worried about not having enough food and 34 percent had to reduce their food quantities. We brought all stakeholders together including the Government of Mongolia, National Development Agency, FAO, EU Delegation to Mongolia, World Bank and, of course, the private sector to discuss what we can collectively do to ensure food security, promote sustainable consumption, advance value distribution. The dialogue stimulated further discussions, solutions and actions. In short, we achieved three outcomes from the dialogue: (i) raising awareness of the urgency of transforming food systems and its role in the sustainable development agenda, (ii) recognizing the need for inclusivity and innovation in food systems governance and action, and (iii) identifying concrete pathways and solutions that can be implemented by all stakeholders. I believe that the national dialogue helped us envision the future of national food systems and the shaping of the pathway towards a sustainable food system in Mongolia.
-How does Mongolia contribute to the UN other than contributing to UN peacekeeping?
-Recently I had the privilege to express our deepest gratitude and join the award ceremony for Mongolian Peacekeepers who served in the UN Peacekeeping Operations in the Republic of South Sudan and the Islamic Republic of Afghanistan who were celebrated with the Medals of Honour. Mongolia is one of the first 24 nations that have sent troops to the UN's Peacekeeping missions with the deployment of over 19,000 peacekeepers to date since 2002. In addition to that Mongolia has been an excellent role model for peace, stability and democracy. Secondly, Mongolia is a lighthouse for human rights. In fact, Mongolia is one of the first countries in the region to adopt the law on protection of human rights defenders. Thirdly, the country is a good role model for inclusive and sustainable development due to its enabling conditions. Fourthly, Mongolia also contributes significantly for supporting socio-economic development in Land Locked Countries through the International Think Tank (ITT LLDC). Lastly, I see Mongolia as becoming a role model for digital inclusion leveraging frontier technology and its human resources.
-What do you want to achieve during your tenure? 
-I am not so concerned about what I achieve but more concerned with what Mongolia achieves. With the UNSDCF 2023-2027, we will create the roadmap for inclusive and sustainable development. We want to focus on (i) reducing poverty, inequality, and child mortality, (ii) improving economic productivity, health and well-being of Mongolians, and disaster resilience, (iii) increasing the investment in climate change, renewable energy and exports of value added products and services, (iv) supporting the most vulnerable including elderly, children, women and disabled (v) creating enhanced livelihood opportunities for herders and people in rural areas. More importantly, we want to ensure that human rights, which are the foundation as well as front and center for development of Mongolia so we could create equitable opportunities for growth and development for all Mongolians leaving no one behind.
I do have a long list of things that we want to achieve because I am a very ambitious and an eternally optimistic person. I can reassure you that I will do my best along with all our colleagues in UN Mongolia as well as, the Government of Mongolia and our other partners.
-What types of activities will be held in celebration of the 60th anniversary?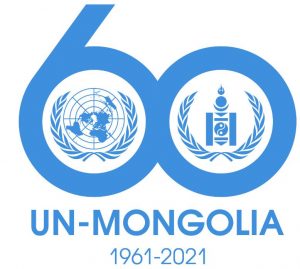 -The 60th anniversary is a very important milestone for the UN and Mongolia. With the Ministry of Foreign Affairs, our UN colleagues are planning to hold various events and issue special publications dedicated to the anniversary. We want to engage everyone including youth, elderly, businesses, civil society organizations and many other partners. Also, we hope that we could build on what we've achieved in the past 60 years to accelerate our achievements. In other words, we want to celebrate the past bearing the future in mind. We hope that you can join our events as well.
-At last but not least, is there anything you would like to address on the eve of the 60th anniversary? 
-In terms of aspiration for Mongolia, I came to Mongolia by choice. I want to contribute as much as I can by leading and coordinating the UN Country Team in Mongolia in an effective manner. I want to make sure that we work more closely with the Government of Mongolia in achieving the current SDGs. I hope that we can plan, budget, implement, evaluate and report the SDGs in the most efficient and effective way so the rest of the world can see how much progress Mongolia is making. I am looking forward to engaging with all our stakeholders so the UN makes significant, meaningful and valuable contributions towards inclusive and sustainable development. The UN team is here to serve and support Mongolia in creating a brighter and better future for all, leaving no one behind.