XacBank, the first green bank in Mongolia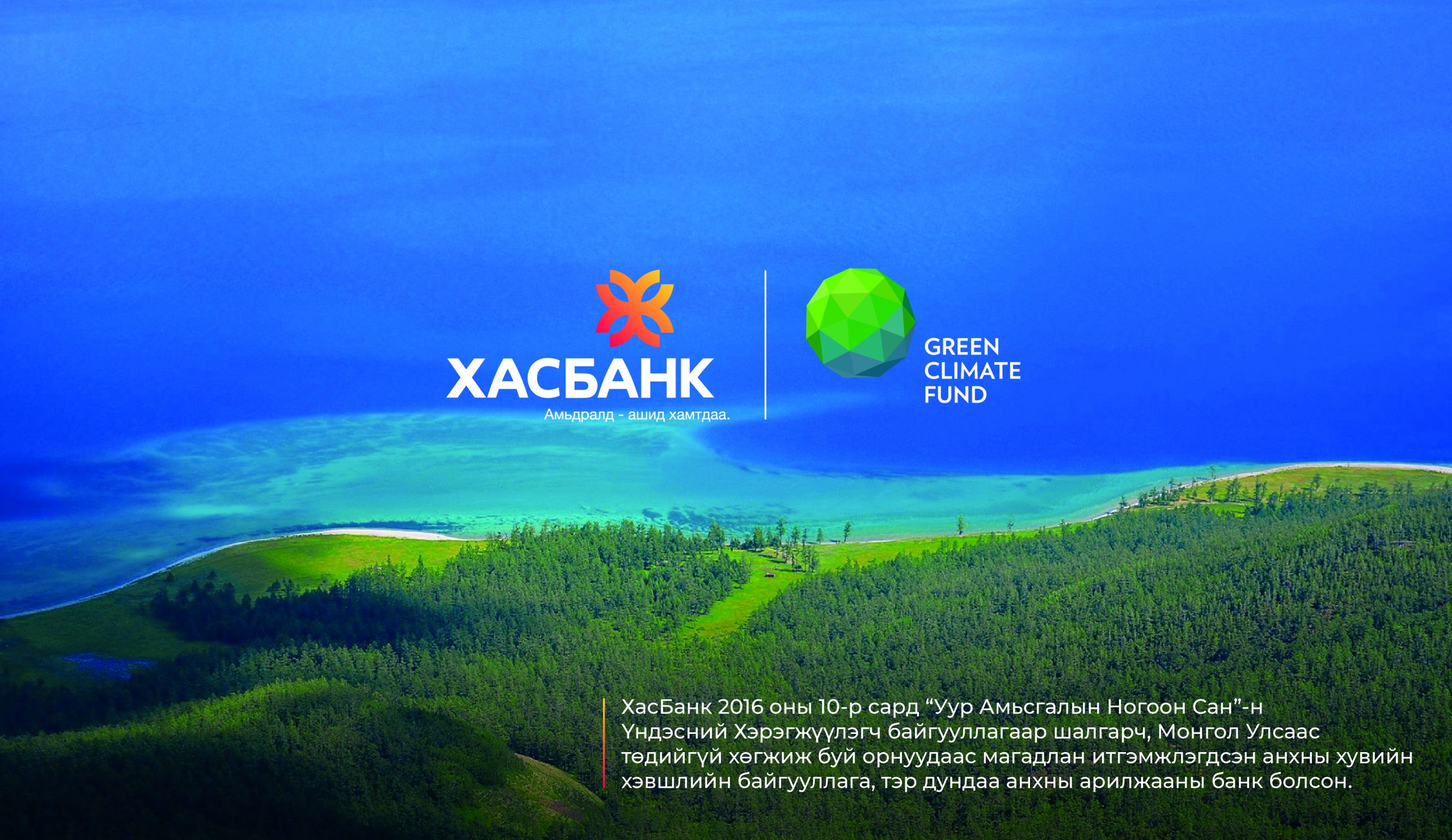 XacBank is the first bank that can be described as a green bank in Mongolia. The bank has established the first green financing mechanism linked to reduce air pollution, reduce greenhouse gas emissions and develop renewable energy.
"People, Planet, Prosperity"
These are the three pillars that define XacBank's vision and mission. It can be said that the bank has been aware of its ethics and responsibilities in conducting its policies and activities within the framework of these principles. For example, in accordance with the pillar principle of "Planet", it is the first bank in Mongolia to create financial products that support green businesses and environmentally friendly development, and to establish an Eco Banking department within its corporate structure. The EcoBank department was the first of its kind in Asia. This was in 2009.
XacBank also announced back in 2007 that it would join the UN Global Compact to implement the principles of environmentally friendly and healthy social development, while demonstrating its commitment to not-financing environmentally harmful businesses through eco-banking.
The bank's first green financing project was aimed at reducing air pollution. Immediately after the establishment of the Eco Banking Department, the "Eco Product Sales Program" was initiated and implemented. Within this framework, energy-efficient stoves and Ger insulation were distributed to Ger area households in Ulaanbaatar. The program has affected 80 percent of Ulaanbaatar's households, and since 2009 143,000 energy-efficient stoves and about 20,000 were sold to households in Ger area with a discounted price and as of its result the coal consumption decreased twofold.
To implement this program, to trade in greenhouse gas emissions reductions, the bank has worked with Micro Energy Credits and Impact Carbon. As a result, in the fall of 2009, Xac Bank became the first Mongolian bank to receive compensation for greenhouse gas emissions reductions according to G.Tuul, Director of Xac Bank's Eco Banking Department. This was the beginning of productive work that has made a significant contribution to reduce air pollution and greenhouse gas emissions through establishing an eco-product department and providing green loans.
In December 2012, XacBank received a $ 20 million loan from the Global Climate Partnership Fund S.A. This was the foundation's first investment in Asia.
Since 2013, it has been offering relatively low-interest financing to small and medium-sized businesses, large corporations and project implementers that are energy efficient and reduce greenhouse gas emissions.
Within this program, many activities such as training, brochure handouts, and providing management advice are regularly implemented in order to introduce the basics of green finance to citizens and businesses, and furthermore install a new culture for every citizen and business entities to combat and prevent from air pollution, environmental and soil degeneration.   
The bank's most sold service is the eco-car loan implemented between 2014 and 2018. At the time, the loan not only helped to upgrade old cars and replace them with more eco-friendly cars, but was also a major solution to reduce urban air pollution. In particular, it has reduced greenhouse gas emissions by 8,000 tons per year, saving one household MNT 1.4 million per year in fuel costs.
XacBank has been a leader in contributing to global issues that are climate change and greenhouse gas emissions, and has taken the lead in leaving a green future for coming generations. For example, in October 2016, Xac Bank was selected as a national implementing agency accredited by the United Nations Green Climate Fund (GSF). The Fund finances global greenhouse gas reduction and climate change adaptation through its accredited institutions. And Xac Bank became the first accredited private commercial bank not only in Mongolia but also in the world.
The bank also received an initial $ 20 million financing from the United Nations Climate Green Fund to support the production and consumption of renewable energy and energy-efficient products.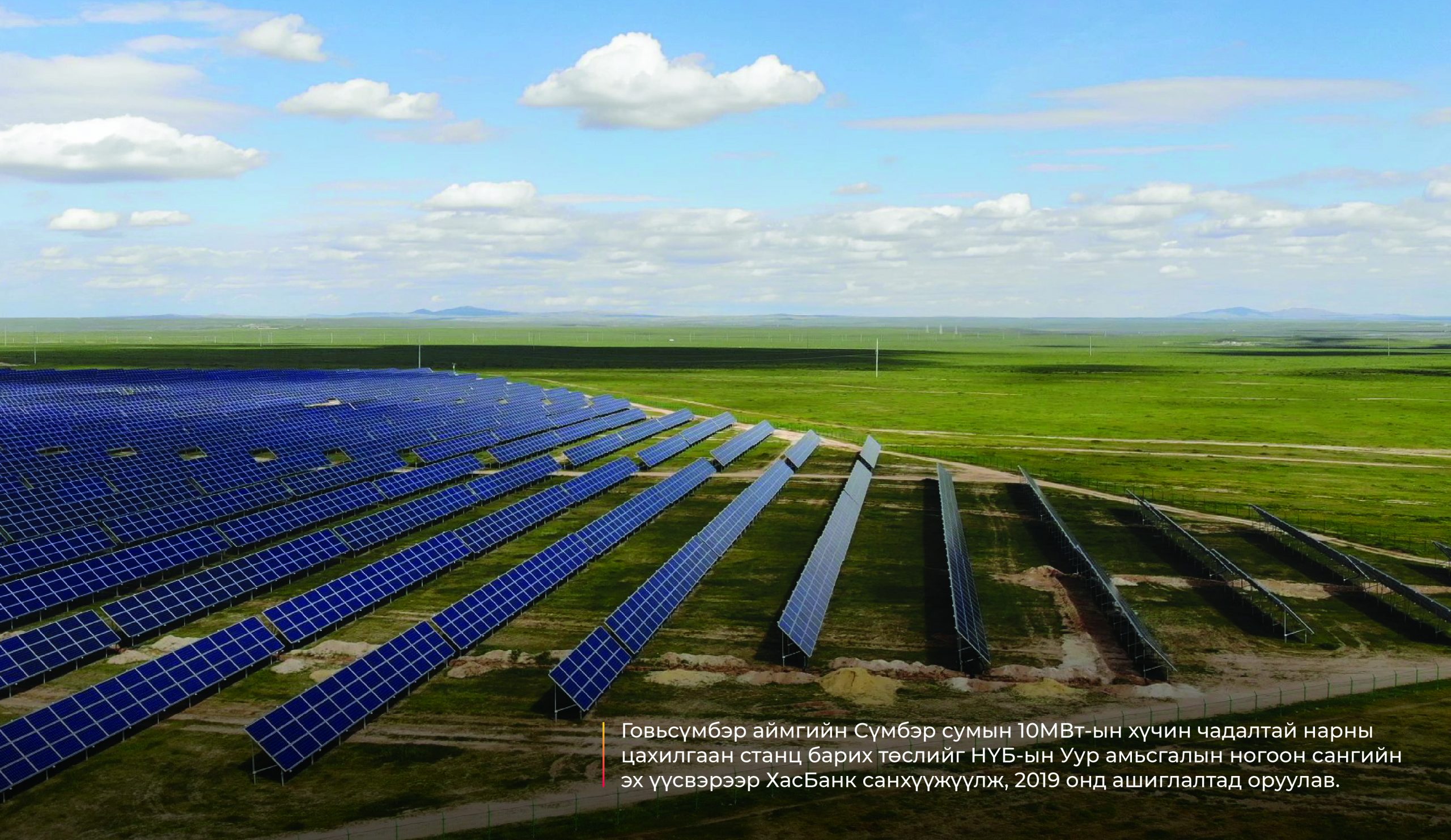 XacBank became the first commercial bank to finance the construction of a renewable energy power plant. The project, to build a 10 MW solar power plant in Sumber soum, Govisumber aimag, was funded by sources from the United Nations Framework Convention on Climate Change and commissioned in 2019. With a total investment of $ 17.6 million, the solar power plant supplies 15,395 MW of electricity annually to the grid. As a result, greenhouse gas emissions have been reduced by 12,270 tons, saving 171 million liters of water annually.
XacBank is now planning to expand its program for private housing loan programs to a new level emphasized by G.Tuul, Director of Xac Bank's Eco Banking Division. A feasibility study has been approved for the construction of an energy-efficient private town away from Ulaanbaatar to keep it free of traffic congestion and air pollution.
It is the first green bank in Mongolia to proudly declare itself a "Green Bank" in the domestic and international financial markets as a result of these environmentally friendly green projects and programs aimed at reducing air and soil pollution.